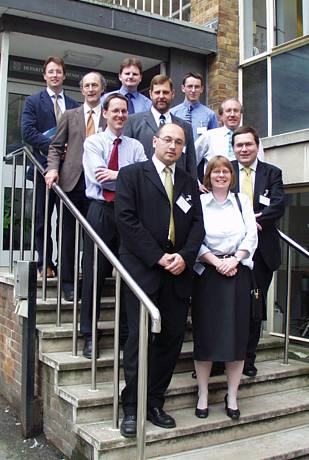 On Wednesday, 29 June, 2005, the Department of Chemical Engineering held its annual Research Open Day on a theme of Imaging in Chemical Engineering.
It was a one-day seminar highlighting step changes in imaging capability and how we use this new information to advance the theory and practice of chemical engineering. Talks were given by three leading figures in UK tomography, backed up by lecturers and researchers from the department.
The day began with an introduction by Head of Department Professor Howard Chase (1 in the photograph). Then the first invited speaker, Professor Richard Williams (2) from the University of Leeds, spoke on Process Tomography in the UK. He gave a good overview of research in Universities around the country and touched on the work of many of the later speakers.
Two lecturers from the department discussed the Latest Developments in Imaging Capabilities at Cambridge. Dr. Clemens Kaminski (3) spoke on Advanced Laser Diagnostics for Reactive Flow Imaging and Chemical Sensing Applications and Dr. Mick Mantle (4) on Latest Developments in MRI: Ultra-fast measurements of multi-phase flows, chemical reaction mapping and solids imaging .
The second invited speaker was Dr David Parker (5) from the University of Birmingham. His talk was entitled Latest Developments in Positron Techniques. He described how the medical technique of positron emission tomography (PET), has been adapted for engineering applications. The technique of positron emission particle tracking (PEPT) allows his team to track a tracer particle and so to study the behaviour of granular materials and viscous fluids in systems such as mixers and fluidised beds.
During the lunch there was an opportunity to view posters, talk with staff and students, and to see more of the department.
After lunch, the third invited speaker, Professor Hugh Stitt (6) from Johnson Matthey Catalysts, spoke on Process Tomography: An Industrial View. This talk brought the seminar back down to earth and compared what can be done in Universities to what is meaningful, and what a manager will pay for, in the real world.
Professor Lynn Gladden (7), the organiser of the Open Day, lead a discussion on the topic How do we use this new information? and then the final session of the day consisted of four short talks from members of the department under the umbrella title Measurement driving new developments in modelling:
CFD of Unsteady-State Flows in Fixed Beds, Mr. Mark Sains (8)
Fluidisation of Dissimilar Materials, Dr. Markus Kraft (9)
Lattice Boltzmann Modelling of Diffusion and Flow in Porous Materials, Dr. Michael Johns (10)
Imaging and Modelling of Polystyrene Melt Foaming Kinetics, Dr. Tri Tuladhar (not in the photo)