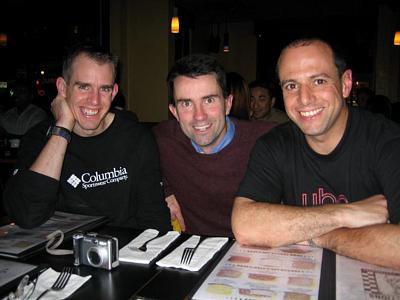 Dr Bart Hallmark, Dr Ian Wilson and Dean Barker
The 77th Annual Meeting of the Society of Rheology took place in Vancouver, Canada, from October 16th to 25th, 2005.
Post doctoral researcher Dr Bart Hallmark gave a talk entitled Micro-flow in microcapillary films. The paper described three different micro-scale flow phenomena through a novel polymer product and was co-authored by Christian Hornung, Prof Malcolm Mackley and Dr Tri Tuladhar. Bart is a member of the Polymer Fluids Group.
Dean Barker presented a paper entitled Continuous casting of a thermoplastic paste which was written with Dr Ian Wilson on his PhD project which has investigated the science behind a novel pharmaceutical vehicle for grazing ruminants, the Time Capsule (R). Dr Wilson presented Modelling liquid phase maldistribution in paste flows, co-authored by Milan J. Patel, Salvatore Mascia and Stuart Blackburn (University of Birmingham), stemming from their work on modelling paste flows using soil mechanics approaches and sponsored by the PowdermatriX Faraday Partnership.
Dr Wilson is the leader of the Powder and Paste Processing Group and Dean Barker is a member of that group.