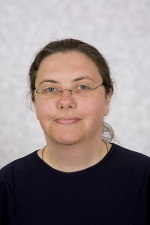 Sarada Crowe has become a Chartered Safety and Health Practitioner and may now use the letters CMIOSH after her name.
Over 6,000 members of the Institution of Occupational Safety and Health (IOSH) became the first Chartered Safety and Health Practitioners at the conclusion of the Institution's annual general meeting at Alton Towers on 16 November 2005. Chartered status will result in increased status and prestige for IOSH members, similar to that already enjoyed by other professionals like engineers, accountants and bankers, and will raise standards by a programme of mandatory CPD (Continuing Professional Development).
Sarada is Safety Officer at the Department of Chemical Engineering, Cambridge University and so is responsible for developing and improving systems and procedures for identifying and controlling risk. One of her many tasks is to maintain the department's Health and Safety web pages.
IOSH is Europe's leading body for health and safety professionals, and represents over 28,000 members. It was established in 1945 and incorporated by Royal Charter in 2003. The Institution regulates and steers the profession, maintaining standards and providing impartial, authoritative guidance on health and safety issues. IOSH provides a centre of excellence for professional standards; promotes awareness of the importance of health, safety and sustainability; advances research and disseminates knowledge; encourages, facilitates and leads communication of information, good practice and expertise; and supports and develops the competence of members.