News of students and staff - 2005
Theatre and science in Cambridge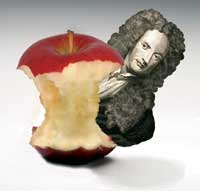 Kate Miller is a postgraduate student in this department, in the BioScience Engineering Group. She is also one of the founder members of theatre company Top Quark Productions and on the team for their current production, Calculus.
Calculus, by Carl Djerassi, is at the ADC Theatre, Cambridge on the 25th-29th October, 2005.
Sir Isaac Newton: hero, genius and England's leading scientific thinker. What will he do to keep it that way?
When Newton accuses German mathematician Gottfried Leibniz of plagiarising his invention of calculus, he begins a bitter conflict over priority. Newton assembles a committee of eleven honourable men, all Fellows of the Royal Society, to adjudicate on the matter. Among them are three lesser-known scientists - John Arbuthnot, Abraham de Moivre and Louis Frederick Bonet. But is their decision really their own? When reputations are at stake, what place do morals have in deciding who was first?
Calculus reveals a darker side of Newton, who was recently voted Man of the Millennium, examining whether his calculations went far beyond mathematics alone
September weddings
| | |
| --- | --- |
| | Chief Accounts Clerk, Ben Green, was married to Jenny on 10 September, 2005, in Fen Drayton Church. They then had a very relaxing honeymoon in Rome and even saw the Pope. |
Computer Officer, Vanessa Blake, was married to Stuart on 17 September, 2005, in St Augustine's Church, Cambridge.

She is shown in the photograph with her fellow Computer Officers, Barrie Goddard and Jim Thompson.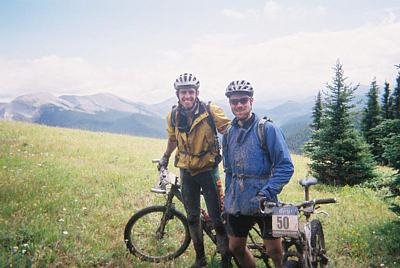 TransRockies Challenge
The Fourth edition of the TransRockies Challenge was held in Canada from August 7 to 13, 2005. It has quickly earned a reputation as being the wildest and most rugged of the epic multi-day mountain bike races.
Post doctoral researcher, Bart Hallmark, completed the race with his team mate, Paul Cockshott, and they finished in position 36 (of 64) in the Open Men category.
The photograph shows Bart and Paul on day 5 of the 7 day race, with the foothills and Prarie to the east.
Bart also took part in a previous mountain biking challenge, the TransAlp Challenge in July 2004.
Sporting achievements for charity
Two members of the department completed the London Marathon on Sunday 17 April 2005.
Dr Carlos Ludlow-Palafox ran to raise funds for the charity Health Unlimited which aims to provide health services in developing countries. He completed the marathon in a time of 4:54:44. Please read more about Health Unlimited here where you can also find a link to the sponsorship page if you wish to make a secure on-line donation. Carlos is a post doctoral researcher, working on Microwave pyrolysis for waste recycling with Professor Chase.
Rob Harris completed the marathon in 2:50:36 and came 516th out of 36000. This was his second London marathon and he knocked 9 minutes off his time from last year. Rob is a research student investigating three-dimensional micromodels under the supervision of Dr. Mike Johns at the MRRC.
On the weekend of 16/17 April, 2005, Andy Sederman completed the three peaks challenge. This meant climbing Snowdon (Wales, 1085m), Scafell (England, 978m) and Ben Nevis (Scotland, 1344m) in one weekend and the team achieved their objective in 25hrs 29mins. Considering that the conditions on all three mountains weren't favourable this was a great achievement. The photograph is from a previous expedition and gives no suggestion of the fog and snow they encountered this year.

Their efforts were to raise funds for Cecily's Fund, a charity for AIDS orphans in Zambia. The Cecily of the title was killed in a car crash in Zambia and the fund is a memorial to her. The charity aims to help educate orphans in Zambia by funding their education, teacher training and paying for some educational supplies. Overall the team has raised over £7000. This will enable about 450 children to go to primary school for a year - giving the children a chance to break the poverty loop.

Andy is Senior Magnetic Resonance Research Scientist at the MRRC. 
On Saturday, 29 January 2005, six members of the department received their MA degrees.
Five were presented at the same ceremony, by Head of Department, Professor Howard Chase. They were, from left to right, Surinder Sall, Senior Technical Officer, Electronics Section, Linda Craft, Departmental Administrator, Barrie Goddard, Computer Officer, Sarada Crowe, Safety Officer, and Simon Butler, Senior Technical Officer, Polymer Group. Dr Mick Mantle (Assistant Director of Research, Magnetic Resonance Research Centre) also received an MA that day, but he was presented by his college at a later ceremony.
The MA is conferred, under Statute B.III.6, on Heads and Fellows of Colleges and on University Officers who are not Cambridge graduates after three years in post.
Post graduate student Jon Heras has recently made an animation featuring a BMX stunt, the Einstein Flip.
The stunt will be attempted and the video will be shown as part of the launch of Einstein Year at the Science Museum in London on 5 January 2005.
Jon Heras is a member of the Magnetic Resonance and Catalysis Group, supervised by Professor Gladden, and he works on imaging 2 phase flow in monoliths