Researchers from Cambridge and Braunschweig have been working together to understand how pre-treatment of surfaces influences their tendency to foul. Recently, research student Phanida Saikhwan and one of her supervisors, Dr Bill Paterson, spent a week in Germany with their counterparts and were able to perform comparative experiments which gave fruitful results.
Phanida describes the visit, "My project, which is a study of cleaning and fouling effects on modified stainless steel surfaces, is in collaboration with the Institut für Chemische und Thermische Verfahrenstechnik (ICTV) of the Technical University of Braunschweig, Germany. In mid December, Dr Bill Paterson (my supervisor) and I visited there for five days. We were shown around the town and the university. The ICTV is an institute within the mechanical engineering department and specialises in thermal processing. The research is also related to biotechnology through the link with their bio-centre. The current research topics are, for example, the experimental studies of the effects of viscosity on the thermal and fluid behaviour in a distillation column. This aims to find a more accurate model for distillation column design for multi-component mixtures of high viscosity.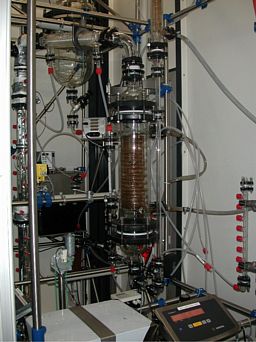 Another project to mention is the work that my collegue, Timo Geddert is doing. Timo is also a first year PhD student like me. His project is also to study the effect of surface treatments on fouling but concentrates on scaling and crystallisation fouling. ICTV have expertise in this field, especially surface characterisation technique. During the visit, I had an opportunity to use facilities for the surface characterisation of my samples. The work includes using DSA (Droplet Shape Analysis) to find surface energy, AFM (Atomic Force Microscopy) to obtain topographic pictures of my samples and using profilometre to find the surface roughness values. The measurements were also compared with Timo's samples and good comparisons were found."
Phanida Saikhwan completed her MEng here at the Department of Chemical Engineering last summer and in October 2004 she began studying for a PhD here. The subject of her research is The study of surface treatments effects on fouling and cleaning rates and she is supervised by Dr Bill Paterson and Dr Ian Wilson.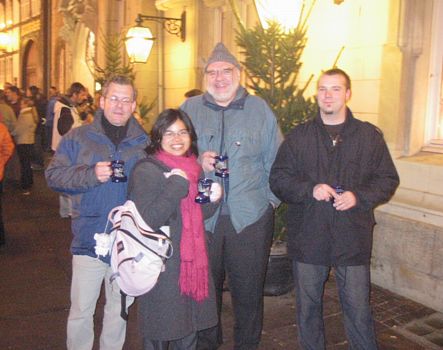 From left to right: Dr Augustin (Timo's supervisor), Phanida Saikhwan, Dr Bill Paterson and Timo Geddert at a Christmas market