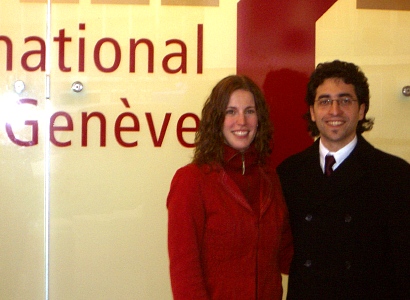 Kate Miller and Salvatore Mascia at the conference centre
The fifth edition of the APGI and APV World Meeting on Pharmaceutics, Biopharmaceutics and Pharmaceutical Technology took place in Geneva, Switzerland, from 27th to 30th March, 2006. The main topic of the meeting was Approaching New Interfaces and there were three and a half days of plenary lectures, poster and podium presentations.
Salvatore Mascia presented a paper, Liquid Phase Migration in the Processing of Microcrystalline Cellulose (MCC) Pastes, as part of the session on Granulation and Extrusion. It was co-authored with his supervisor, Dr Ian Wilson. They are members of the Powder and Paste Processing Group.
Kate Miller presented a poster, Affinity purification of human serum albumin (HSA) nanoparticles using the biotin-avidin system. It was co-authored with her supervisor, Professor Nigel Slater. They are members of the BioScience Engineering Group.