David at Vanessa's wedding in September 2005,
photo by Barrie Goddard

At the Department this week, we are very saddened to hear of the death of David Wilson. David joined the Department as a technician in December 2000 and very quickly became a valued member of staff and a friend to many of us.

He had already retired from one career, but found retirement unsatisfactory, so he came back to work. He was always cheerful and postive, even after the diagnosis of cancer, and he will be greatly missed.

He slipped peacefully away on Saturday, 4 November 2006.

The funeral was held on Wednesday, 15 November 2006, at 2.30pm, at the East Chapel of the Crematorium.
It was a humanist ceremony and was attended by around 80 family and friends.
Any further donations may be sent to Arthur Rank Hospice Charities.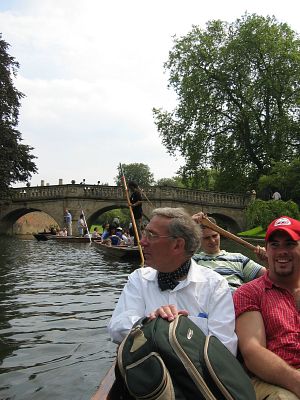 David on a punting trip a couple of years ago.
A real gentleman.
Annette Williams, Laboratory Section
Occasionally he would give illustrated talks on his travels which were both interesting and stimulating. His commentary and excellent photography made the talks a real joy and were clearly popular with the members of the Department. He gave slide shows of Colombo (Sri Lanka), Las Vagas, 'The streets of old Delhi', ' A cultural portrait of Great Yarmouth' and India, including Jaipur, Deeg and Amritsar.
David Wilson will be sadly missed by everyone in the Department as he was always so pleasant and willing to help.
Michaela McNeill, Receptionist
David was a loyal and supportive laboratory technician and someone who has helped many past and present research students. He was dedicated and interested in his work and was always willing to pass on his expertise to others. David has been unwell for sometime but continued to work in as normal a way as possible. He is an example to us all in many different ways.
Prof Malcolm Mackley
I hate to accept this very bad news, it's hard to say at this sad time although I have a lot of thoughts about David. In my mind he is always smile, has a very strong spirit. He is very positive and helpful gentle man. I have been encouraged very much by David. I will miss him and miss his travel presentations.... I am very regret that recently I was thinking to visit him or post him a card, but ...
Weiyao Ma
I was really taken aback with the news of David Wilson. I was the one sitting next to him on the punt in the photo. I remember the afternoon clearly as, per usual, he showed everyone up with his excellent sense of style and a chilled bottle of bubbly that was equally shared amongst all the crew.
Gareth Forde, ex PhD student, now a lecturer at Monash University in Australia
I first met David in 1981 when I moved to a job at what was then FBC Ltd. at Hauxton. He had already been working there (as Fisons) for some years after starting his career in the Chemistry Department in Lensfield Road. David was a technician in my laboratory team and he continued to work with me from time to time until March 2000 when he took early retirement. He was always an extremely hard working and careful laboratory worker and the results from his experimental work could always be relied upon. He was amazingly resourceful and highly practical. He always knew from where or from whom a piece of equipment or a reagent could be obtained. It was a particular pleasure for me to know that David was in the Department when I joined a few years ago. He was extremely loyal, thoughtful and considerate at all times. He was always cheerful and positive even when the circumstances were adverse. He was good company and one lasting memory I have is of him serving drinks from a silver salver at his fortieth birthday celebration - he did things in style! This style was further exemplified by the champagne celebration in the tea room when he understood that his treatment for cancer had been successful. Sadly this was not to last. He remained positive to the end and even bought a very plush new bike in the summer so that he could still travel around the locality independently. I know that David will be deeply missed by us all.
Dr Peter J Foreman, Departmental Secretary (Resources)
Davids No.1 hobby (apart from a taste for good food and excellent wine) was photography. He was not tempted to venture into "Digital" but was very much a purist using a 35mm Contax camera for much of his excellent portrait and scenic photography - he was always on the look-out for that "one in a thousand" picture that he considered good enough to enter into various Photographic contests. He was delighted to receive any accolades about his photos, and philosophical if he did not win ("there's always next time"). A very good friend as well as an extremely conscientious work colleague.
Barrie Goddard, Computer Officer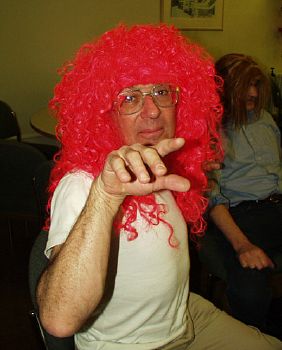 Christmas, 2001
 This is how I would like to remember David: a fun loving, kind and knowledgeable man, for whom nothing was ever too much trouble. Many students would have found their PhDs a lot more difficult, if not insurmountable, if David had not been there to build their rigs for them, His photographic lectures were unforgettable, and he was, without a doubt the best loved member of staff here ever! Even when he already knew that he was extremely ill he took the trouble to present me with a bouquet of flowers that was larger than he was after my final exams; I almost ended up crying in front of a class full of students, this touched me so deeply! I feel honoured to have known him, I think they broke the mould after he was made, though I wish they hadn't.
John, David and Roz
Roz Williams, Head of Laboratory Section
I can't tell you how how deeply I'm saddened to learn of David's departure. During my years at Cambridge while I did my PhD, I met many folks from the UK and internationally, but whenever I reflect back, David Wilson stands out from the crowd. I used to describe David as a Trojan - he was one of the hardest working man I had ever known and he did it with a smile. However, what I admired most of all was how fatherly he was - in everything he did. Being hundreds of miles away from one's home can be a challenge all on its own, but sometimes it would seem that angels exist to see you through, and for me, David certainly took on that role. I will continue to remember David and be inspired in those memories.
Dr. Ralph Chadeesingh, ex PhD student from Trinidad, now a Senior Technology Advisor at BP