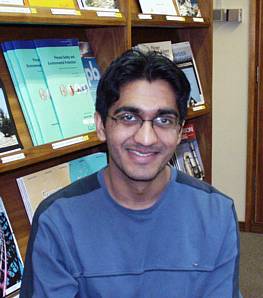 Milan Patel has won one of three £500 IChemE Particle Technology Subject Group prizes which enabled him to attend the Fifth World Congress of Particle Technology in the USA.
Milan Patel is a third year PhD student in the Department of Chemical Engineering at Cambridge, supervised by Dr Ian Wilson at Cambridge and Prof Stuart Blackburn at Birmingham. His project is entitled Development of a paste formulation criterion and is funded by the EPSRC PowdermatriX Faraday Partnership. The competition for the IChemE Particle Technology Subject Group Student Travel Bursary takes the form of a 3000 word essay.
The Fifth World Congress of Particle Technology took place in Orlando, Florida on 23-27 April, 2006. Every four years, members of the global particle technology community converge to share their latest insights and applications to industrial, academic, and civil problems. Different continents host the event each time and this year over 600 papers were presented in about 100 sessions over the four days.
Milan exhibited a poster and gave an oral presentation of his paper, Simulation of liquid phase maldistribution during the extrusion of highly filled particulate pastes. Other members of the department who attended the conference were Professor Lynn Gladden, Dr Andy Sederman, Christoph Müller and Dr Mick Mantle.
Papers presented by members of the Department
Simulation of liquid phase maldistribution during the extrusion of highly filled particulate pastes
Milan J. Patel1, D. Ian Wilson1, and Stuart Blackburn2. (1) Department of Chemical Engineering, University of Cambridge, Pembroke Street, Cambridge, United Kingdom, (2) University of Birmingham, IRC in Materials Processing, Edgbaston, Birmingham, United Kingdom
Property Predictions for Packed Columns Using Random and Distinct Element Digital Packing Algorithms
Chaoshui Xu1, Xiaodong Jia2, R. A. Williams3, Hugh Stitt4, S. El-Bachir5, Andrew J. Sederman5, Lynn F. Gladden5, and Michiel Nijemeisland4. (1) Structure Vision Ltd., Leeds Innovation Centre, Clarendon Road, LS2 9DF, UK, Leeds, United Kingdom, (2) School of Process, Environmental and Materials Engineering, University of Leeds, Houldsworth Building, Clarendon Road, Leeds, LS2 9JT, United Kingdom, (3) Institute of Particle Science and Engineering, University of Leeds, Houldsworth Building, Clarendon Road, Leeds, LS2 9JT, United Kingdom, (4) Johnson Matthey Catalysts, PO Box 1, Billingham, Cleveland, TS23 1LB, United Kingdom, (5) Department of Chemical Engineering, University of Cambridge, Pembroke Street, Cambridge CB2 3RA, UK, Cambridge, United Kingdom
Application of Magnetic Resonance Imaging Techniques to Particulate Systems
Andrew J. Sederman, Mick D. Mantle, and Lynn F. Gladden. Department of Chemical Engineering, University of Cambridge, Pembroke Street, Cambridge, CB2 3RA, United Kingdom
Investigation of the Formation of Jets in a Three-Dimensional Gas-Fluidized Bed Using Magnetic Resonance Imaging
Christoph R. Müller, Andrew C. Rees, Mick D. Mantle, Andrew J. Sederman, John F. Davidson, John S. Dennis, Paul S. Fennell, Lynn F. Gladden, and Allan N. Hayhurst. Department of Chemical Engineering, University of Cambridge, Pembroke Street, Cambridge, CB2 3RA, United Kingdom
The rise of bubbles and slugs in gas-fluidized beds using Ultra-fast Magnetic Resonance Imaging
Christoph R. Müller, Mick D. Mantle, Andrew J. Sederman, John F. Davidson, John S. Dennis, Paul S. Fennell, Allan N. Hayhurst, Lynn F. Gladden, and Andrew C. Rees. Department of Chemical Engineering, University of Cambridge, Pembroke Street, Cambridge, CB2 3RA, United Kingdom
Mri Investigations of Particle Motion within a Three-Dimensional Vibro-Fluidized Granular Bed
Jon M. Huntley1, Mick D. Mantle2, T W martin1, Andrew J. Sederman2, Mark D. Shattuck3, R D Wildman1, and Lynn F. Gladden2. (1) Loughborough University, Wolfson School of Mechanical and Manufacturing Engineering, Loughborough, Loughborough, United Kingdom, (2) Department of Chemical Engineering, University of Cambridge, Pembroke Street, Cambridge, CB2 3RA, United Kingdom, (3) Phyics, Levich Institute, City College of New York, 140th and Convent Ave., New York, NY 10031