Our website came into being on 2 February 1996, so this week it is 10 years old!
It has been through several changes of hardware, the pages certainly look different and the number of people looking at those pages from all over the world has greatly increased. In the first month of its life, February 1996, there were 5026 requests for pages. In October 2005, there were 212371 requests. That's a 42 fold increase.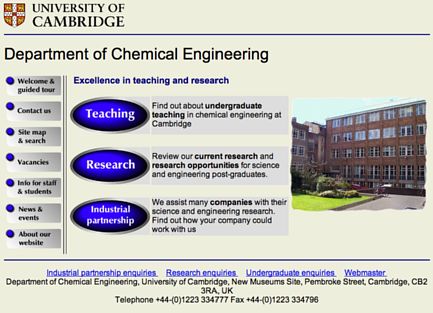 The picture shows how the main home page looked in 2000 and the WayBack Machine will show you other examples of how it used to be
The WWW concept was invented in 1989 by Sir Tim Berners-Lee while he was working at CERN (Geneva), the European centre for High Energy Physics. By the end of 1992 there were only 50 web sites in the World and a year later the number was still no more than 150. The main University web site http://www.cam.ac.uk/ appeared in June 1994.