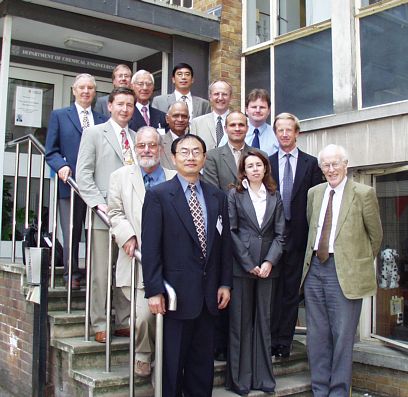 Professor John Davidson FRS FREng became 80 years old on 7 February 2006. To mark John's long and distinguished career in chemical engineering, Cambridge's Department of Chemical Engineering organised a special 2 day-symposium on 13-14 July 2006.
This event was very well attended and many of John's old students took the opportunity to return to Cambridge, to meet old friends and to pay their respects to their old supervisor. The event was also popular with current students and at one stage, there were 101 people in the main lecture theatre.
The photograph shows the speakers with Professor Davidson and there is a key below.
In addition to the presentations given, there was a poster session and a demonstration of the WebLabs project. The main social event was a Gala Reception and Dinner in John's honour, held in the Old Hall of Queens' College.
1 Professor John Davidson
2 Dr Silvana Cardoso, The fluid mechanics of oceanic CO2 plumes
3 Prof L S Fan, Ohio State University, USA, Clean Fossil Energy Conversion Processes
4 Prof Roland Clift, University of Surrey, Climate change, energy policy and engineering analysis
5 Prof Gareth McKinley, MIT, USA, Designing Nanostructured Materials and 'Smart Fluids' for Adaptive Energy Absorption
6 Prof Geldart
7 Prof M Hillmyer, University of Minnesota, USA, Multicompartment micelles from triptych polymeric surfactants
8 Prof M M Sharma, Institute of Chemical Technology, India, An ever exciting and rewarding world of chemical engineering
9 Dr W L Wilkinson (after dinner speaker)
10 Professor Howard Chase, Head of Department
11 Dr John Dennis, Recent Research on Fluidised Bed Reactors at Cambridge
12 Dr Mike Johns, Novel Measurements of Process Rheology and Microstructure
13 Prof Jonathan Seville, University of Birmingham, Fluidisation: standing on the shoulders of giants
14 Prof Z Cui, Oxford University, Why Chemical Engineering is Essential to Stem Cell Technologies
If you would like to be invited to future events of this nature, please contact Elena Gonzalez, Department of Chemical Engineering, Pembroke Street, Cambridge CB2 3RA.
At the end of the symposium, a CD was given out containing speakers' presentations, posters and photographs of the event. If you attended the symposium and did not receive your CD, please contact Vanessa.