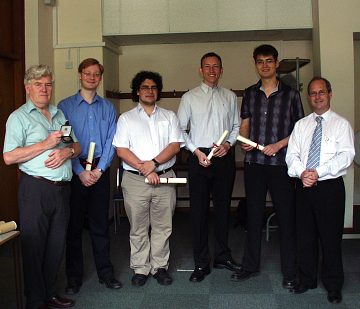 Left to right: Bob Skelton, Edward Owen, Robert Trachsel,
David Broady, Michael Hepworth and Neil Atkinson.
Samantha Gooneratne was not able to attend the
presentation.
The Macnab Medal for excellence in design has been awarded by the IChemE to Samantha Gooneratne, Robert Trachsel, Michael Hepworth, Edward Owen and David Broady.
The group undertook their design project in 2005 and the brief for the project was to design a plant to produce bio-ethanol transport fuel, also known as Power Ethanol, from either wheat or sugar beet. They were the only group to choose wheat. The IChemE assessed Design Projects submitted by Chemical Engineering departments who had accreditation visits within the last year and of the eight entries, Cambridge's was judged to be the best.
The Design Project in 2005 was run by Bob Skelton and Colin Deddis and Bob collected the medal on behalf of the Department at the IChemE Assembly at Billingham on 5 May 2006.
On 12 June 2006, Neil Atkinson of IChemE visited the Department of Chemical Engineering at Cambridge and met the students. He gave a short speech describing the history of the medal and then gave the students their individual certificates.
Afterwards, there was a buffet lunch and an opportunity discuss the project, what the students gained from it, and what they hope to do in the future. All the students enjoyed the project and Michael Hepworth decribed it as "probably the highlight of Chem Eng at Cambridge". It was an opportunity to work as a team and to put into practice what they have learned in lectures and in vacation placements in industry. At Cambridge, the Design Project is run after exams in the third year and these students have just completed their final, fourth year, exams. They all have jobs lined up in the oil industry, which they will start after a well deserved summer of relaxation and travelling.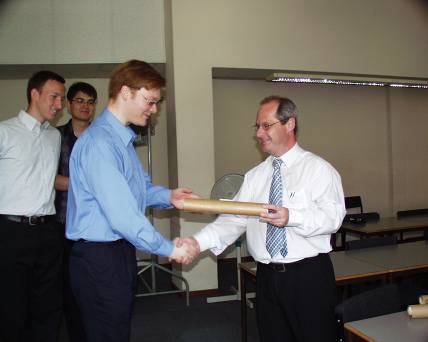 Edward Owen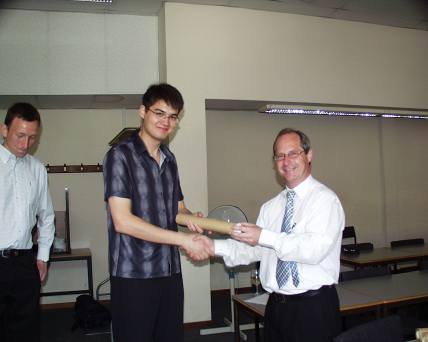 Michael Hepworth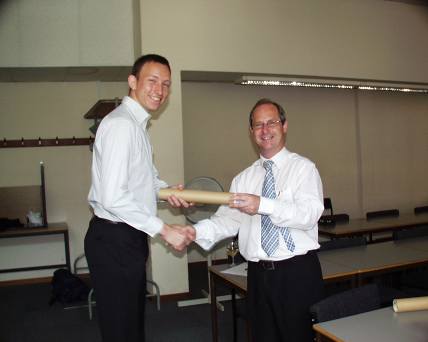 David Broady

Robert Trachsel