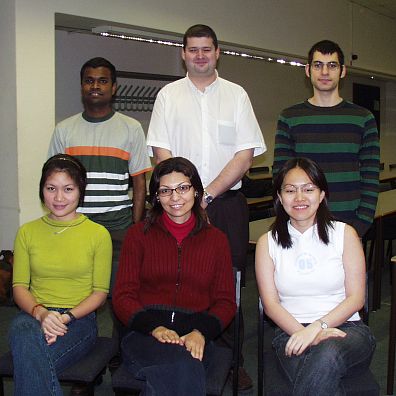 Back row, left to right:
Venkata Gundabala, Dr Alex Routh, Joe Tavacoli
Seated: Thoa Nguyen, Mayyada El-Sayed, Grace Yow
Happy New Year!
The Lent term for Cambridge University started on 17 January 2006 and lectures start today, Thursday 19 January 2006.
The undergraduates have returned from their Christmas breaks and new postgraduate students and post doctoral researchers have joined the department, some of whom are shown in the photograph.
We also have a new lecturer, Dr Alex Routh (back row, centre). He has been appointed as a BP Institute University Lecturer, a post held jointly between the BP institute and this department. He gained his MEng degree in chemical engineering here in 1995 and has been a Lecturer at the University of Sheffield.
Thoa Nguyen will be working with Prof Gladden on MRI, Mayyada El-Sayed will be working with Prof Chase on biotechnology and Grace Yow will be working with Dr Routh on the encapsulation of enzymes. Venkata Gundabala and Joe Tavacoli will be based mostly at the BP Institute and will be continuing the PhDs they started at Sheffield University, supervised by Dr Routh.