House of Commons
Dr Bart Hallmark presented a poster at the seventh annual reception for Early-Stage Research Engineers at the House of Commons on Tuesday, 12 December 2006 and won the BNFL section prize for the best UK engineering R&D.
His poster's title was The invention and innovation of a novel plastic Microcapillary Film technology and it covers the four and a half year story of the invention, initial development, and refinement of Microcapillary Films (MCFs) along with some of the proof-of-concept studies on their application uses. Bart has been working on a simple and exciting new plastic processing technology. The novel material, Microcapillary Film (MCF), is a flat extrusion-processed, flexible, plastic film containing an array of microcapillaries that run along its entire length. The precision engineered capillaries are effectively uniform and can range between 30 microns and 1 millimetre in diameter. Potential application areas are widespread and include its use as sensory equipment in the Formula 1 racing industry and in high-performance sailing, as a low-cost material for making domestic solar panels and, with further process development, as a material to create coloured fabrics without the use of chemical dyes. Bart is working with Professor Mackley in the Polymer Fluids Group.
Further information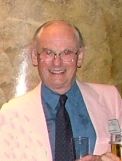 Professor Allan Hayhurst has recently been elected Chairman of the British Section of the Combustion Institute, which is the U.K's main scholarly body dealing with the science and technology of combustion. Nationally the Combustion Institute organises two one-day meetings each year in Great Britain; in fact, the next one will be held in the Department of Chemical Engineering here in Cambridge on 18 December 2006. The topic will be "Combustion technologies for reducing emissions of CO2 to the atmosphere". Every other year the Institute organises a European Combustion Symposium, the next being in Crete in April 2007. On an international level there are large Symposia, again held every other year; the next will be in Montreal 2008. The papers from those meetings are published as "Proceedings of The Combustion Institute". In addition, the Combustion Institute publishes the monthly journal "Combustion and Flame", whose citation indices have always been amongst the highest for chemical engineering journals.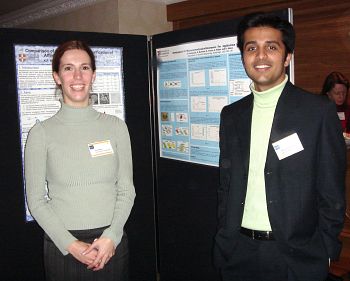 Poster prize
Kate Miller won a poster prize at the 3rd Annual bioProcessUK conference held in Edinburgh on the 29th-30th November. Twenty five young researchers were given bursaries to attend the conference and present posters of their work. The three prize winners have been given tickets for the BioIndustry Association Gala Dinner to be held on the 25th January 2007.
Kate is a PhD student in the Bioscience Engineering group, supervised by Professor Nigel Slater. Her poster, entitled Comparison of adsorbents for the purification of affinity tagged nanoparticles is part of a collaboration with fellow student Matthew Cheeks.
Abhishek Deshpande, supervised by Professor Nigel Slater and Dr Adrian Fisher, also received a bursary to attend the conference. His poster was entitled Development of microelectrochemical biosensors for application in biocatalysis.
Female Engineer Shortlisted For National Award After Inspiring Girls To Follow In Her Footsteps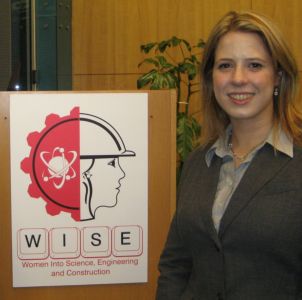 Rachel Cooke
Rachel Cooke joined the Department of Chemical Engineering in 1997, completed her MEng here and stayed on to gain a PhD on The rheology and processing behaviour of polymer and wormlike micelle solutions in oil recovery. She then went on to become a Process Development Manager at Cadbury's Bournville site.
While she was a student she won many awards and worked to raise the motivation and achievement of young people in science and since she has been with Cadbury, she has continued this work and has now been shortlisted for a national award for promoting science and engineering to girls and women.
Dr Rachel Cooke was one of six women nominated for the WISE (Women Into Science and Engineering) Excellence Award at a ceremony in London. Each of the finalists met HRH The Princess Royal, who is the patron of the WISE campaign. Rachel was the only chemical engineer short listed, and the only nominee from the food and drink industry.
During her time with Cadbury Schweppes, Rachel has formed links with a local girls' school, Turves Green in Northfield, where she runs an annual technology project and delivers lectures to girls about her profession. Her work at the school landed her a Connexions partnership award.
The judges were impressed by the range of projects Rachel has been involved with, from taking part in an Engineering Education Scheme to mentor a group of girls at Swanshurst Girls' School in Billesley and helping new female recruits at Cadbury, to becoming a role model for the national campaign Why Not Chem Eng which promotes the male-dominated subject to girls.
Terry Marsh, Director of the WISE campaign, said of Rachel: Her application showed clear evidence of her support for other women engineers and scientists. Rachel's profile and blog on the Cadbury Schweppes website encourages more women into careers similar to her own.
On her nomination, Rachel said: I am delighted to have been recognised by WISE and I hope that by being short listed for this award, I have shown that girls can succeed in science and engineering, and that it's not just for men. Hopefully I am helping in some way to change perceptions about what jobs women should do.
The WISE Campaign promotes science, engineering, technology and construction as a valuable and interesting career option to young women and encourages the retention of women engineers and scientists in the profession.
Since its launch in 1984 the percentage of female engineering graduates has risen from 7% to 18% today.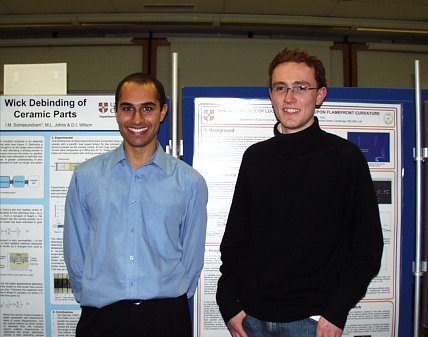 Prizes for first year research students
At the start of their 2nd year of research, research students are asked to give short presentations on their work so far and to prepare a poster.
On 25 October 2006, ten graduate students gave presentations and then took questions at a poster session. The prize for best work went to Ian Somasundram (on the left in the photo) and the runner up was Robin Chrystie.
Ian's poster was entitled Wick debinding of ceramic parts. He is supervised by Dr Ian Wilson and is part of the Powder and Paste Processing Group.
Robin's poster was entitled The dependence of local burning rate with flamefront curvature. He is supervised by Dr Kaminski and is part of the Laser Analytics Group.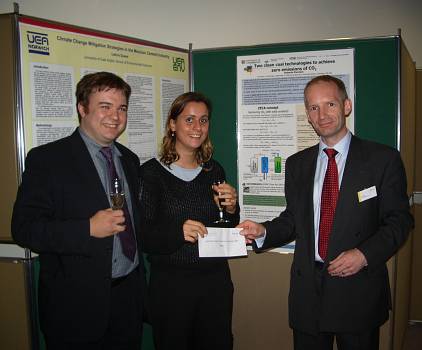 Best poster
Members of the combustion group won the prize for the best poster at a meeting of the Cambridge University Energy Network on the 28th of September, 2006. The meeting was entitled "Decentralised Energy in the UK", and was attended by delegates from a number of universities.
The poster, presented by Roberta Pacciani, was entitled "Two clean coal technologies to achieve zero emissions of CO2." The authors were R. Pacciani, P.S. Fennell, S.A. Scott, J.S. Dennis, A.N. Hayhurst and J.F. Davidson.
The picture shows Roberta Pacciani and Paul Fennel being presented with a cheque for £500 by Tim Jervis of the Cambridge Energy Forum, who sponsored the prize.
Combustion Group
Cambridge Energy Forum
Cambridge University Energy Network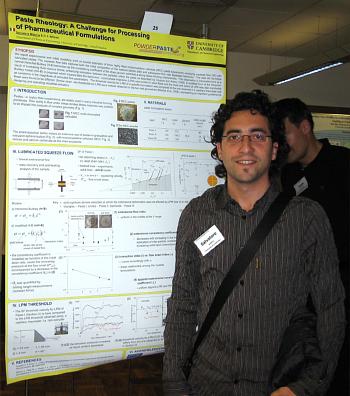 Young Researcher's Award in Particle Technology
Salvatore Mascia was runner-up in the Young Researcher of the Year award at the 7thUK Particle Technology Forum held at Imperial College London 21-22 September 2006.
Salvatore is a member of the Powder and Paste Processing Group, studying for a PhD on the Rheology and Processing of Pharmaceutical Pastes. He is supervised by Dr Ian Wilson and is shown here beside his poster entitled Paste Rheology: A Challenge for Processing of Pharmaceutical Formulations.
Applicants for the award were initially required to submit a 2-page abstract. A short-list of finalists was selected by the judges who looked at quality, originality and relevance of the research.
The finalists were then required to give an oral presentation on Thursday 21st September 2006, as part of the Particle Technology Forum. Three winners were selected by the Committee and the awards were presented at the Forum Dinner.
Prizes are sponsored by MSD and P&G.
Powder and Paste Processing Group
Undergraduate prizes
The ExxonMobil Prize for Chemical Engineering has been awarded to Bai Song. She gained the top mark in her class, Part IIA (third year).
The highest overall mark in Part IIB (fourth year) was achieved by Sophia Wilby and she has been awarded the T.R.C. Fox prize. Also in Part IIB, Richard Morrisby achieved the highest mark in the research project and he has been awarded the North Carolina State University prize.
Students who have just completed Part IIB of the Chemical Engineering course will now graduate with an MEng. Students who have just completed Part IIA may graduate with a BA, but almost all normally choose to return for another year to study for the MEng.
Travel grant to Chile
Marios Michael Hadjiandreou won a £2055 travel grant to undertake research for two months (Oct-Dec 2006) at the School of Biochemical Engineering, Pontificia Universidad Catolica de Valparaiso in Chile. The grant was awarded from the Centre of Latin American Studies in Cambridge. The competition takes the form of an application procedure and a shortlisted personal interview. Marios won one of very few grants among fifty candidates.
Marios is a first year PhD student in the Department of Chemical Engineering, supervised by Dr. V S Vassiliadis. His project is entitled "Optimal control and Optimisation of HIV chemotherapy treatment". External collaborator to this work is Dr. Raul Conejeros of the School of Biochemical Engineering in Valparaiso, Chile.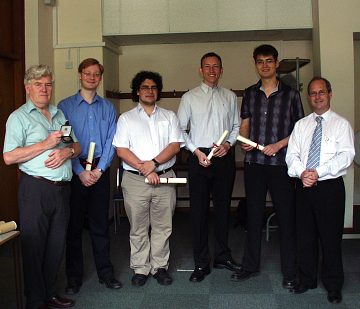 Left to right: Bob Skelton, Edward Owen, Robert Trachsel,
David Broady, Michael Hepworth and Neil Atkinson.
Samantha Gooneratne was not able to attend the presentation.
Macnab Medal
The Macnab Medal for excellence in design has been awarded by the IChemE to Samantha Gooneratne, Robert Trachsel, Michael Hepworth, Edward Owen and David Broady.
The group undertook their design project in 2005 and the brief for the project was to design a plant to produce bio-ethanol transport fuel, also known as Power Ethanol, from either wheat or sugar beet. The IChemE assessed Design Projects submitted by Chemical Engineering departments and Cambridge's entry was judged to be the best.
The Design Project in 2005 was run by Bob Skelton and Colin Deddis and Bob collected the medal on behalf of the Department at the IChemE Assembly at Billingham on 5 May 2006.
On 12 June 2006, Neil Atkinson of IChemE visited the Department of Chemical Engineering at Cambridge and met the students.
More details of the prize giving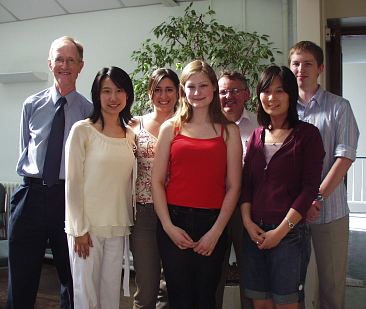 From left to right, Alan Stanford, Bai Song, Sarah Palit, Emma Gilroy,
Nigel Slater, Jisun Lee and Matthew Ives.
Design project, 2006: prize for best presentation and prize for best overall performance
The Design Project is a major part of the coursework for Chemical Engineering students in their third year at Cambridge. The project involves the conceptual and process design of a whole plant and the brief for the Design Project for 2006 was to convert natural gas to liquid hydrocarbons using the Fischer-Tropsch process. In particular it was desired to produce naphtha (gasoline) and middle distillates (diesel) that could be sold as transport fuel.
The students work on the project in groups of five or six and the exercise takes place over five weeks. During this time they cover all the important aspects of Chemical Engineering design: process flowsheet development, equipment sizing, control, economics, safety, environmental considerations and reporting/communication.
The project reports were handed in on 8 June 2006 and the presentations were given on the afternoon of Friday, 9 June. The winner of the prize for best presentation was Group E, Team Girl. They are pictured here with Nigel Slater at the back and Alan Stanford from the IChemE on the left.
The winner of the prize provided by Shell for the best overall performance in the Design Project was Group D, Shaman GTL. They are Alwin Fung, Jonathan Harrison, Sandy Kwok, Jennifer Neilson and Alexander Johnstone.
David Broady awarded Salters' prize for 2006
David Broady has been awarded one of this year's Graduate prizes from The Salters' Institute of Industrial Chemistry.
Each year, the Salters' Institute invites every UK department of Chemistry or Chemical Engineering to nominate one final year undergraduate. The selectors are looking for candidates who will ultimately be able to occupy leading positions in the UK Chemical Industry.
David Broady is currently in Part IIB of his Chemical Engineering MEng course and he was also recently awarded a prize for the presentation on his research project, "Cool Blanket" Microcapillary films (MCF). The project was with Christopher Price-Kuehne and they were supervised by Professor Mackley.
By winning this prestigious award, he follows in the footsteps of many previous students from the Department of Chemical Engineering, Cambridge University.
The Salters' Institute of Industrial Chemistry aims to support chemistry teaching and to encourage young people to pursue careers in the UK chemical industries.
Research project prize winners
Research projects are a major part of the coursework for Chemical Engineering students in their fourth year at Cambridge, leading to the MEng degree. On 6 March 2006, half of the class gave their presentations with the other half presenting on 13 March.
The joint first prize winners at the research presentations on 6 March 2006 were Joachim Wauters and Nahed Ahmed for their work on Modelling Temperature Programmed Desorption from Porous Solids and David Broady and Christopher Price-Kuehne with "Cool Blanket" Microcapillary films (MCF).


Joachim, Nahed and David
The joint first prize winners at the research presentations on 13 March 2006 were Maritza Handal and Rodrick Griffiths for their project, Budging biofilms and Samantha Gooneratne and Sophia Wilby for Characterisation of micro-structured hydrogels.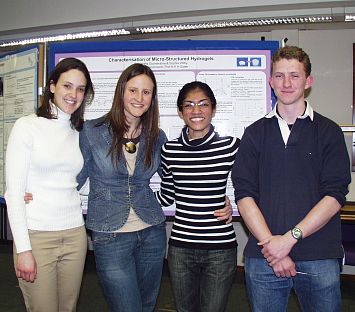 Maritza, Sophia, Samantha and Rodrick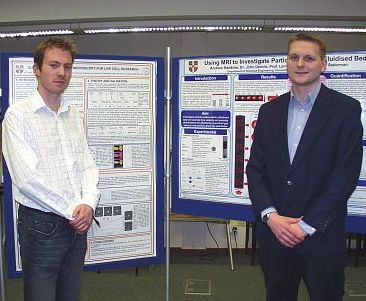 Prizes for first year research students
At the start of their 2nd year of research, research students are asked to give short presentations on their work so far and to prepare a poster.
On 1 February 2006 eleven students gave their presentations and the prize for the best work was given to Alan Elder (on the left in the photo). The runner-up was Andrew Hawkins.
Alan's title was Quantification of Fluorescence Resonance Energy Transfer (FRET) microscopy for live cell research and Andrew's title was Using MRI to investigate fluidised bed hydrodynamics.
There are more photos of the poster session.
Poster competition
Simon Hanslip has won the poster competition at the bioProcessUK annual forum held in Liverpool on December 1st 2005. Young academics were invited to present posters on bioprocessing research. The three competition winners received tickets to attend the Bioindustry Association Annual Gala Dinner at the National History Museum in London on the 26th January 2006, sponsored by Chiron Vaccines.
Simon is in the final year of his PhD working in the CUBE laboratories on the production and assembly of human papillomavirus virus-like particles.
bioProcessUK is a Technology Programme funded Knowledge Transfer Network. It was established following the award of £3 million to the BioIndustry Association (BIA). bioProcessUK is working to foster a strong bioprocessing community, to develop and enhance the specific skills required for bioprocessing and support the next generation of bioprocessing leaders in the UK.