The People Page     News of students and staff
Open University Success

Michaela McNeill, our receptionist, has successfully completed her Open University degree course!

She has an interest in Ancient Rome and has been taking modules mainly in history and classics. She has been studying, in her own time, for fourteen years. Head of Department Professor Lynn Gladden said, "This is great news and a splendid achievement."

Michaela will graduate on 2 June 2007 at Ely Cathedral.
August wedding

Jonathan Griffith and Hayley were married on Friday 4th August 2006. The wedding was at St Laud's Church in Sherington and the reception was at The Sculpture Gallery at Woburn Abbey.

Jonathan was an undergraduate here from 2001 to 2004 and then went on to study for a PhD. His project title is Drying and absorption behaviour of surfactant granules and he is supervised by Dr Johns.

Hayley did a BA at York before doing a PGCE in Cambridge at Hughes Hall. She now works as a teacher in Histon.
Roz Williams, Head of the Laboratory Section, has been studying with the Open University over the last six years and has now succeeded in gaining an Honours Degree in Biological Sciences, with distinction.

The photograph shows her after her degree ceremony, at Ely Cathedral, on 3 June, 2006.

 
Our resident DJ

Electronics Technician John Gannon will be presenting an hour of 60s music on local radio on Friday, 17th February, 2006.

209radio is a community radio station and is not-for-profit and mostly volunteer-driven. It has a range of specialist music programs with community and arts programmes being added all the time. 209radio normally broadcasts over the internet, but has a short-term Restricted Licence, from 10th-19th February 2006, to broadcast on 103.5FM.

John's 60s show may be heard from 5 until 6pm on Friday.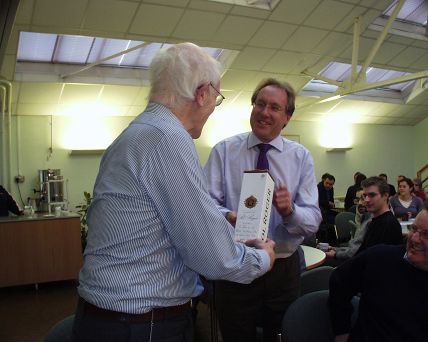 Happy 80th Birthday
Professor John Davidson celebrated his 80th birthday on 7 February 2006. The occasion was marked by a gathering in the Social Room and Head of Department Professor Howard Chase presented him with a bottle of champagne.
Professor Davidson MA, PhD, ScD, FRS, FEng, FIChemE, MIMechE joined the Department of Chemical Engineering, Cambridge University in 1952 as a University Demonstrator. He became Professor of Chemical Engineering (Shell Professor from 1978) and Head of Department from 1975 through to his retirement in 1993. He continues to be an active member of the department and supervises research in collaboration with other members of staff.
The Department's Research Open Day will also mark Prof Davidson's 80th birthday and will be held on 13th and 14th July 2006.