Postgraduate student Mark Sankey took part in a University Challenge contest that was recorded in the summer of 2005. He was Captain of the Trinity College team that took on St John's Oxford in the first round and Liverpool in the second.
The first round show was broadcast in the UK on Monday 21st November 2005. Cambridge led comfortably throughout most of the show and although Oxford put on a valiant sprint towards the end, they could not quite catch up before the gong. The final score was St John's Oxford 130, Trinity College Cambridge 165.
The next round was broadcast on 27 February 2006. Trinity led convincingly almost all the way through, but faded towards the end. At the gong, the score was Liverpool 195, Trinity College Cambridge 170, but even Jeremy Paxman said that with another couple of minutes they might have come back.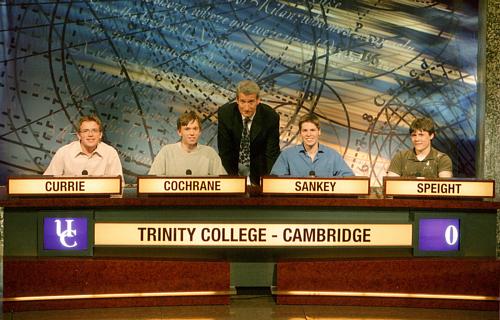 The Trinity team with Jeremy Paxman
Photograph copyright Granada Television - reproduced here with their permission
Mark Sankey completed his undergraduate studies here in 2004 and graduated with the MEng degree in Chemical Engineering. He is currently working towards his PhD on the MRI of trickle-bed reactor hydrodynamics. His supervisor is Professor Lynn Gladden. At the start of their 2nd year of research, all research students are asked to give short presentations on their work so far and to prepare a poster. After these presentations in October, Mark Sankey was awarded the prize for the best work.