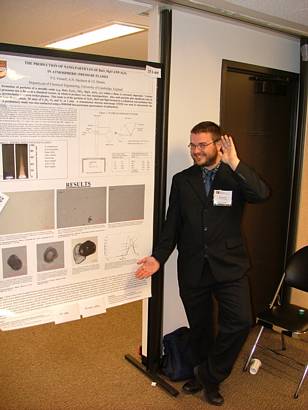 Dr Paul Fennell
Dr Paul Fennell is off to Imperial College as an RCUK fellow and lecturer in Clean Energy. He is leaving on the 1st of May, 2007. Paul joined the department as an undergraduate student in 1996 and then stayed on as a Research Student. He gained his PhD on The kinetics of the reactions of nitric oxide with particles of iron and of oxygen with coal-chars in 2004. He was supervised by Professor A N Hayhurst. Since then, he has been a post-doctoral researcher, working on The production of nano particles within flames with Dr Dennis.
Jon Heras
Jon Heras is leaving to start his own computer graphics company, Equinox Graphics. Jon joined the department as an undergraduate student in 1999. He graduated with the MEng degree in 2002 and since then has been studying for his PhD on Imaging multi-phase flow in chemical reactors, supervised by Prof Lynn Gladden.
Fellowships
Dr Amit Bhave has been elected as a Fellow at Hughes Hall College. This is a three year fellowship, from 1 January 2007 until 31 December 2009. In addition to his research in advanced engine modelling at the CoMo group, Amit hopes to bring his experience in entrepreneurship and technology commercialisation to his teaching and research duties at the College. Amit completed his PhD in 2004 (supervised by Dr Kraft) and manages reSolutions Ltd., a spin-out company based in Cambridge.
Alasdair Campbell will become a junior research fellow of Girton College. He has been working on Buoyancy effects in reactive flows, supervised by Dr Cardoso. Christoph Müller will be becoming a junior research fellow of Queens' College. He has been working on Gasification, supervised by Dr Dennis.