CNT@Cambridge 2007 Symposium - A mini-symposium on the science and application of Carbon Nanotubes (CNTs)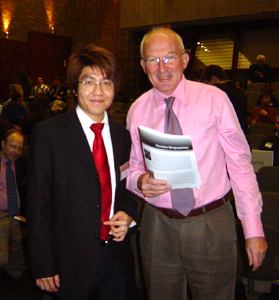 Over 150 delegates gathered in Cambridge on last Friday (30 November) to attend the first CNT@Cambridge 2007 symposium. The theme of the symposium is the science and application of carbon nanotubes. CNTs are cylinders of rolled graphene sheets which can potentially be used in high-performance nanocomposites, nano-electronic devices and biological applications. At the symposium, Prof. Malcolm Mackley from this department addressed a keynote speech on "The microstructure and rheology of carbon nanotube (CNT) suspensions". The event was initiated by a group of students and post-doctoral researchers who share the same vision: to provide a platform for CNT researchers to exchange ideas and for industry delegates to interact with leading CNT scientists in Europe. Dr. James McGregor and Anson Ma from this department were serving on the symposium organising committee.
The highlights of the program were keynote presentations by 11 distinguished speakers sharing their research findings on the synthesis, physical properties, processing, electronic and biological applications of CNTs. Besides Prof. Malcolm Mackley from this department, other speakers from Cambridge include Prof. Alan Windle (Materials Science), Prof. Eugene Terentjev (Cavendish), Prof. Bill Milne (Engineering), Prof. Gehan Amaratunga (Engineering), Dr. James Elliot (Materials Science) and Dr. Andrea Ferrari (Engineering). External speakers include Prof. Francisco Chinesta from ENSAM (France), Prof. Kostas Kostarelos from the University of London (England), Prof. Christian Bailly from Université Catholique de Louvain (Belgium) and Mr. Kshitij Singh from the Institute of Nanotechnology (Scotland).
The symposium was generously sponsored by Churchill College, Nanoholdings LLC, ENSAM, AIXTRON and SonicBio, with participation from both academic journals (Nature and Science) and the industry (Bayer MaterialScience, Oxford Instruments, Nanocyl, Nokia, Siemens, Thomas Swan). The proceedings of the symposium will be published by Springer and will appear as a special issue of the International Journal of Material Forming.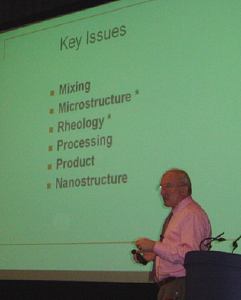 Prof. Malcolm Mackley addressing his keynote speech entitled "The microstructure and rheology of carbon nanotube (CNT) suspensions" to the audience of the symposium.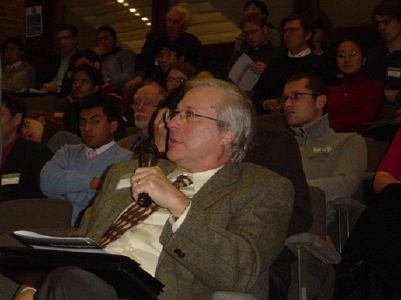 Dr. Daryl Boudreaux from NanoHoldings LLC - a USA-based venture capital company - asking a question during the Q&A session. Dr. Damien Vadillo from this department was in the audience.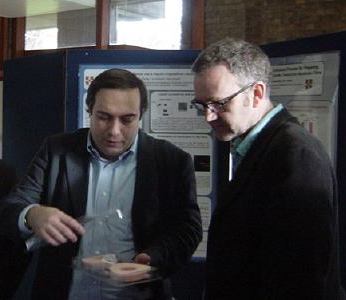 The chief editor of Nature Nanotechnology, Dr. Peter Rodgers (right), talking to Dr Andrea Ferrari from the Centre of Advanced Photonics and Electronics (CAPE), Cambridge.