Rachel Engineers Inspirational Education Success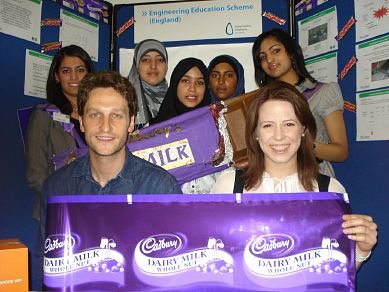 Dr Rachel Cooke spends her days at Cadbury Trebor Bassett in Bournville as a Process Development Manager, overseeing the development and production of confectionery products, from the Cadbury Dairy Milk with Creme Egg bar to the brand new Maynards Wine Gums Light, due to hit the shops soon.
However, as part of her job in a male-dominated manufacturing setting, Rachel has spent the last couple of years working extensively with local schools, and especially with girls, to inspire the next generation of school leavers to consider a career in science and technology.
Her tireless work with local schools has led to two national award nominations: in November 2006 she was one of six women nominated for the WISE (Women into Science and Engineering) Excellence Award, and earlier this year she was recognised as one of the country's most dedicated Science and Technology Ambassadors by SETNET, which promotes careers in science, technology, engineering and maths.
With a PhD in Chemical Engineering from the University of Cambridge, Rachel is well placed to pass on her vast knowledge and experience to young girls who perhaps would not have previously considered the employment options open to them in engineering.
In the last couple of years alone, Dr Cooke has mentored new female recruits at Cadbury, worked with Turves Green Girls' School and Technology College in Northfield to run an annual technology project and deliver lectures about her profession, and spearheaded a national campaign, "Why Not Chem Eng" which promotes the subject to young people.
One of the biggest projects Rachel has been involved with is the Engineering Education Scheme (EES), a programme which gives Year 12 Maths and Science students hands-on experience of working directly with local companies. CTB was one of 46 companies in the region who took part, with Rachel as its ambassador. Others firms involved include Jaguar Cars, Severn Trent Water and Walkers Snack Foods.
Rachel worked closely with a group of female students from Swanshurst School, a Specialist Science College, to research ways Cadbury could increase its manufacturing outputs, devising ideas for different stopping mechanisms on conveyor belts that would allow production to be increased.
As well as visiting Cadbury's factory to see first hand how chocolate is manufactured, the group also spent some time at the University of Birmingham's laboratories and workshops testing out their ideas.
The students presented their findings alongside 250 of the region's brightest 16-17 year olds at a Celebration and Assessment day at the NEC last week, drawing more than 500 visitors. Many of the ideas and solutions presented will be taken up by the partner companies, and studies have shown that nearly 80% of all projects would save them money if implemented.
Rachel Cooke, who helped the students on the project, said: "I was extremely impressed with the standard of work produced for this project; their enthusiasm and commitment was infectious. The girls I worked with really enjoyed visiting Bournville and working at the University, and hopefully it will spur them on to consider careers in engineering."
Shareen Khan, one of the students who took part in the scheme, said: "It was fascinating to see how different confectionery products were made. I hadn't considered a career in engineering before I took part in this experiment, but working with Cadbury has been a great challenge and I'm now thinking about applying to engineering degree courses."
Joan Whitehouse, Regional Director of the EES, added: "Once again, our students have developed some truly inspired engineering ideas and concepts. It is essential to local industry that we actively encourage and attract talented local young people to careers in engineering, science and technology."
Cadbury's involvement in the Engineering Education Scheme is just one example of how their employees work within the community to inspire, help and improve the lives of young people. CTB works with schools across the country to undertake projects such as Young Enterprise, mentoring and work experience to help prepare young people for the world of work.