Field Laser Applications in Industry and Research
Iain Burns, Toni Laurila and Clemens Kaminski of the Laser Analytics Group attended the first international conference on Field Laser Applications in Industry and Research (FLAIR), held near Florence on 3rd - 7th September 2007. Kaminski served in its organisation as a member of the founding programme committee. The Laser Group presented papers on the application of supercontinuum lasers to confocal microscopy, the photoacoustic detection of carbon dioxide and oxygen using a novel micromechanical cantilever pressure transducer, and on the spatially-resolved measurement of flame temperature at kHz repetition-rates with diode lasers.
The conference focussed on uses of laser spectroscopy in applied research and industry and was sponsored by major equipment manufacturers from all over the world. Laser technology's role in industrial instrumentation is rapidly increasing in importance as laser sensors are becoming less expensive, more robust and ever more selective and sensitive. Topics covered the use of lasers in atmospheric chemistry research; in the investigation of flames and plasmas; medical breath analysis; isotope ratio studies, etc. and was attended by world leaders in the respective fields.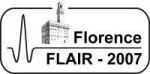 An excellent social programme set in the beautiful vineyards surroundings Florence provided excellent opportunities for networking.