Foodomics? Why We Eat, What We Eat, And What's Next On The Menu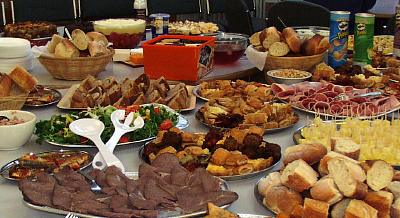 The latest Horizon Seminar, Foodomics? Why we eat, what we eat and what's next on the menu took place on Tuesday, 19 June, 2007, at the Centre for Mathematical Sciences, Cambridge University.
It focused on the way we look at the complex issues regarding food and health, food and human behaviour, and real-world applications in food engineering and diagnostics. The event brought together delegates working in very different fields - medicine, chemical engineering, social anthropology, archaeology, plant sciences and biotechnology.
Professor Nigel Slater from the Department of Chemical Engineering chaired a session on What's new on the menu and that session included a presentation by Ian Wilson entitled What's new in the kitchen. Ian described how the food factory of the future could be using novel oven designs being developed in conjunction with Fylde Thermal Engineering that offer the potential to 'dial in' different and uniform rates of radiative and convective heating. A prototype unit is being designed and upgraded using modern computational fluid dynamics and heat transfer codes which will allow the concept to progress from idea to pilot plant in the course of a PhD project. Ian also reported how spray freezing of products such as coffee and cocoa butter can yield novel microstructures and innovative products. The MRI and X-ray expertise in the Department has allowed these structures to be studied in situ and in real time. As any chef knows, the last thing to do is clean up and Ian showed how Ruben Mercadé-Prieto has elucidated some of the curious features reported in dairy cleaning-in-place systems using fundamental studies of protein chemistry and polymer physics.
The Horizon Seminars are hosted by Research Services Division to showcase the latest Cambridge research.