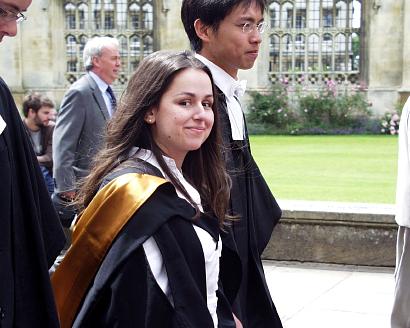 Several thousand undergraduate students from 31 colleges received their degrees on Thursday, 28 June, Friday, 29 June and Saturday, 30 June, 2007 and most managed to miss the showers of rain.
The degree ceremony is known in Cambridge as General Admission and students graduate with their college, not by subject or department. The photograph shows Gentiana Shiko, who has just gained an MEng in Chemical Engineering, processing along King's Parade with other members of Peterhouse.
The procedure is that the graduands of each college, wearing their gowns and hoods, assemble in their college under the direction of the Praelector, who leads them in procession through the streets to the Senate House. Meanwhile, relatives and friends of the graduands take their seats in the Senate House.
In groups of four, the students are presented to the Vice-Chancellor's deputy, and then are conferred their degree individually. The ceremony is entirely in Latin. After the last candidate has graduated, the new graduates meet their family and friends in the Senate House Yard to celebrate and the next college processes in for their turn.
Further information