Members of this department enjoyed success at the IChemE Gala Awards Dinner last night (25 October 2007) at the Hilton Metropole, London. Dr Geoff Moggridge won the Entec medal for the best award entry from all 32 that were shortlisted and Professor Malcolm R. Mackley, Dr Bart Hallmark, Christian Hornung and Dora Medina were highly commended in the Sellafield Ltd Award for Engineering Excellence.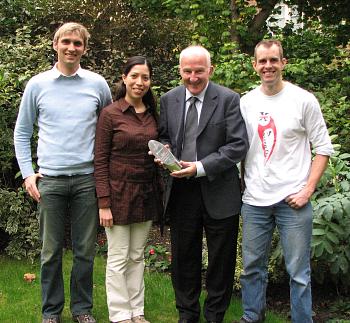 Left to right: Christian Hornung, Dora Medina, Professor Malcolm R. Mackley
(holding the trophy) and Dr Bart Hallmark
Dr Moggridge is currently overseas so was unable to attend the event. His award was collected by his co-worker from the Department of Zoology, Dr David Aldridge.
A past Cambridge student, Rachel Cooke was also awarded the GSK Young Engineer of the Year award. Rachel works at Cadbury Trebor Bassett in Bournville, UK and has worked extensively with local schools, and especially with girls, to inspire the next generation of school leavers to consider a career in science and technology.
The annual IChemE Awards programme aims to recognise and promote organizations which make an outstanding contribution to safety, the environment, sustainable development and other aspects of the chemical and bioprocess industries.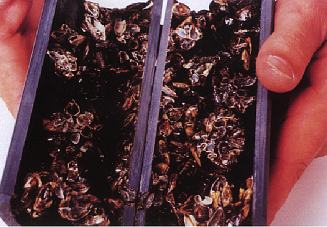 Dr Geoff Moggridge was nominated for the IChemE Water Award, which is given for particular attention to water use, clean-up and re-use, and impact on environment, including resource use, recycling and water reduction is especially important.
Zebra mussels are freshwater molluscs (up to 4 cm long) native to the Caspian and Black Sea region, which have invaded North America and Europe. The water supply and power generation industries are vulnerable to zebra mussels blocking intake pipes for water works or cooling water systems, costings billions of dollars per year in the United States alone. Zebra mussels also displace and kill many native species. The BioBullet that Geoff has developed combines rapid killing of zebra mussels with minimum environmental damage. By using encapsulated particles instead of bulk molluscicides, the total quantity of toxin entering the water stream is greatly reduced.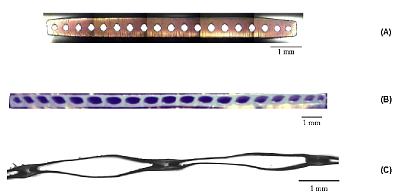 Photomicrographs of (A) standard voidage MCF (B) high voidage MCF and (C) ultra high voidage MCF. The polymer is linear low-density polyethylene (LLDPE).
Professor Malcolm R. Mackley, Dr Bart Hallmark, Christian Hornung and Dora Medina were nominated for the Sellafield Ltd Award for Engineering Excellence. This award puts particular stress on elegant, major chemical engineering solutions integrating social responsibility and lifetime value. The team has invented a simple and exciting plastic processing technique that can be retrofitted to existing polymer extrusion lines. The novel extrudate, Microcapillary Film (MCF), is a flat, flexible, plastic film containing an array of microcapillaries that run along its entire length. The precision-engineered capillaries can be tailored to be effectively uniform and can range between 3 microns and 3 millimetres in diameter depending on processing conditions and polymer choice. Potential application areas for MCFs include using them as low-cost plastic heat exchangers, as low-cost, disposable, chemical microreactors for pharmaceutical and fine chemical synthesis, as a functional component in pressure sensing devices and as a peristaltic pump membrane.