On Friday, February 2, 2007, the new Laser Laboratory at the Department of Chemical Engineering, Cambridge University was opened. It will host research activities in chemical process imaging and laser sensor design for which the Laser Analytics groups have won several prizes over recent years.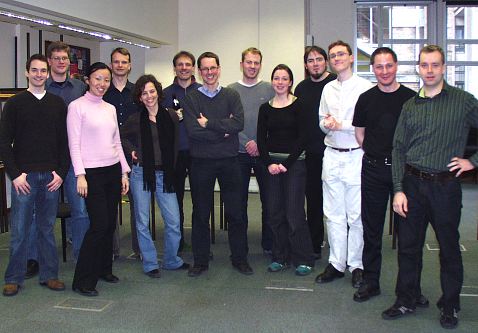 The laser group: Simon Schlachter, Johan Hult, Xiaowen (Ellen) Dai, Iain Burns, Gabi Kaminski, Georg Hartung, Clemens Kaminski, Alan Elder, Rosalynne Watt, Graeme Whyte, Robin Chrystie, Frithjof Scheel, Toni Laurila
The Head of the Group, Dr Clemens Kaminski, wished to thank all those who have contributed to the creation of the new lab and so the laser analytics group hosted a party for the department's support staff who helped in so many ways to keep the project on time and within budget. Individuals who were specifically involved in the project planning and management phases were former Head of Department Prof Howard Chase, current Head Prof. Lynn Gladden and finally Dr. Peter Foreman, who had the mammoth task of supervising the entire construction phase of the project.
The new lab is in the basement of the Shell Building, which was previously divided into several small offices and labs. The dividing walls were demolished (as shown in the before / after picture series below) and the new space comprises a flexible open plan laboratory, which can be organised into differently sized research units, with infrastructure ideally suited for reactive flow research and laser sensor design.
The laboratory houses several state-of-the-art laser sources, including diode laser sensors patented by the group for monitoring emissions from gas turbine model combustors, a large number of high power pulsed lasers for visualisation of chemistry in reactive gas flows, and supercontinuum laser systems, for ultra rapid chemical composition analyses. These activities are tightly integrated into other research efforts across the University of Cambridge e.g. the University Gas Turbine Partnership (UGTP), the departments of Chemistry, Physics and Engineering.
Further information:
Before


July 2006
and after


February 2007