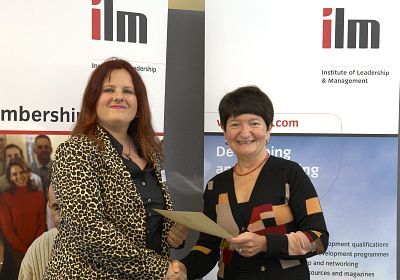 At a recent event, the Vice Chancellor, Professor Alison Richard presented awards to members of University staff who have successfully completed the course on Managing Safely, the Introductory Certificate in Management and the Introductory Diploma in Management. The event took place on 15 October 2007.
The Institute of Occupational Safety and Health (IOSH) Managing Safely course is a nationally recognised and respected training programme for managers and supervisors. Sarada Crowe, from the Department of Chemical Engineering, carried out all of the teaching and marking on this course and her time was donated by the Department. This is the first time that this award has been delivered within the university and eight candidates have been successful. One of those candidates was Roz Williams, pictured with the Vice Chancellor. Roz is Head of the Laboratory Section. Unfortunately, Sarada was unable to attend the ceremony.
The course is designed to get managers up to speed on practical actions they need to handle health and safety issues in their teams and to give them the knowledge and tools to tackle the health and safety issues they are responsible for.
Plans are underway for further groups of staff to undertake this programme during 2007-08.