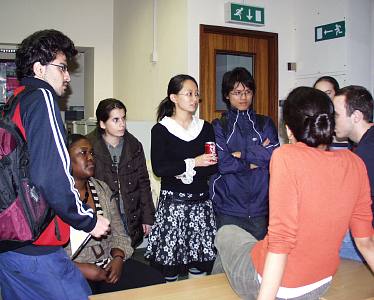 On Thursday, 22 February, 2007, an Open Day was held at the Department of Chemical Engineering for first year Natural Sciences, Engineering and Computer Science students.
The open day was an opportunity for these students to find the information they need to make an informed decision about their future. It gave them the chance to
find out at first hand what professional Chemical Engineers do
see what the Chemical Engineering department looks like
meet some of the staff, and talk to them about the course at Cambridge.
meet some current and former students
Why now?
Students coming to Cambridge do not go straight into the Chemical Engineering course. They enter the Department after one year of Natural Sciences or Engineering, or occasionally Computer Science.
So, if these first year students decide they want to do Chemical Engineering, they need to change Tripos at the end of this academic year.
What happened?
At 1 pm the students were welcomed to the department and given a buffet lunch. Dr Patrick Barrie gave a brief introductory talk to explain what Chemical Engineers do and to give some idea of the structure of the course. There were then tours of the department and an opportunity to talk to current students and members of staff.
If you're a Part 1A student and you missed the Open Day, it's not too late. See
Information for Current Cambridge Part 1A students
More information about undergraduate courses
Related links