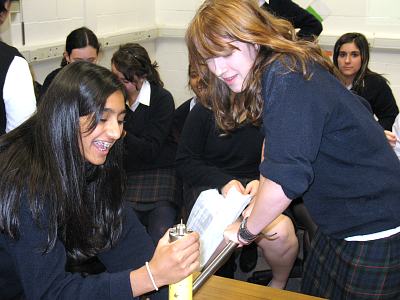 The 23rd annual Physics at Work event was run in the Cavendish Laboratory from 18-20th September 2007. It gives over 2,300 14-16 year old school pupils a chance to meet scientists and engineers working in academia and industry and learn more about their research. The Chemical Engineering Department was one of the 26 exhibitors and presented to 36 school groups over the three days.
The Department's presentation was themed around What is Chemical Engineering? and to learn more, students explored how chemical engineers had influenced their lives before they had even arrived at the exhibition that morning by developing and manufacturing a wide variety of products they had all used: from toothpaste and other cosmetic products, to the food in their breakfasts and then the fuel that powered the coach they travelled in.
After this the pupils were introduced to two examples of recent research in the department. Firstly, there was a discussion on possible alternative fuels for road transportation, including bio-diesel, and some of the advantages and disadvantages of each. For most however, the highlight of the session was the chance to produce some flexible chocolate using a modified car jack!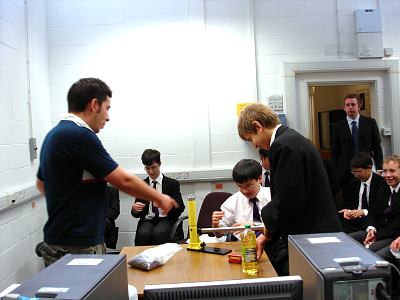 This year, the sessions run by Chemical Engineering were organised by Colin Davies, who is a research student working at the Magnetic Resonance Research Centre. He was assisted by Dr Binjie Hu, our Teaching Fellow and PhD students Mark Sankey, Thoa Nguyen, Jonathan Griffith, Ya Ying Chen, Simon Schlachter, Moira Smith, Chris Tighe and Thusara Chanderasekara
This photo shows Colin Davies, and looking on from the doorway is Mike Goodson, who was previously our Teaching Fellow but is now a Physics Teacher at the Perse School.
Further information: