European Venture Contest Finalist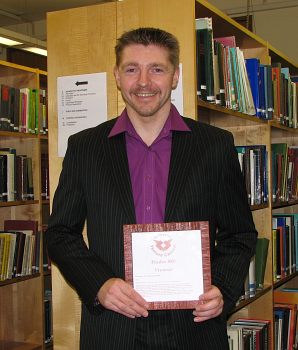 Dr Mark Eccleston reached the final of the 2007 European Venture Contest sponsored by Spanish Bank Eurecan. Mark was representing Vivamer, one of the department's spin out companies, focussed on applications of a responsive polymer platform technology ranging from smart reagents to clinical therapeutic delivery. The final, held in Barcelona on the 11th and 12th of December, saw 17 of the initial 526 teams battle it out for a winner takes all 90,000 Euro prize in a Dragon's Den style pitching contest to a grand Jury. This was followed by a nerve wracking 1 minute elevator pitch to an audience of 1000 entrepreneurs, bankers and business Angels.
According to Mark, "It was a great experience. The standard was exceptionally high by the time we'd got through the regional heats with teams competing from all over Europe. Although Vivamer didn't win it was a great opportunity to raise the company's profile and highlight the entrepreneurial activities of the department in an international arena. The prize would have been nice but Vivamer is looking to raise £500,000 to secure operations over a 24 month period. I made a lot of useful contacts and have set up two new collaborations which will see Vivamer's delivery technology evaluated for delivery of a novel peptide based anti-cancer therapeutic."
L'Oréal prize for Melanie Hoehl, Yazid Jalani and Lu Zhao
Three of our third year undergraduates, Melanie Hoehl, Yazid Jalani and Lu Zhao, have won the first prize at the L'Oréal Ingenius Competition last week (3-5 December 2007).
Ingenius 2008 gives selected students the opportunity to join L'Oréal on-site for a live Case Study experience at their UK factory in Llantrisant. Teams of 3 students were challenged to diagnose the processes of a L'Oréal plant and propose their solutions to further develop both sustainable development and productivity through Energy Efficiency. Other participants included Imperial College, the University of Nottingham and Cardiff University.
Melanie, Yazid and Lu have won the national-level competition and will now represent the UK to compete at the International level in Paris in March 2008. Students from 4 different continents and 12 countries will gather to compete.
L'Oréal is now the world's largest cosmetics and beauty company. It has developed activities in the field of cosmetics, concentrating on hair colour, skin care, sun protection, make-up, perfumes and hair care. L'Oréal is active in the dermatological and pharmaceutical fields.
Salvatore Mascia, Patrick Gordon and Moira Smith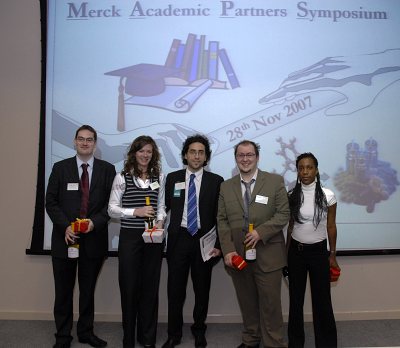 Salvatore Mascia, Patrick Gordon and Moira Smith have all won prizes this week.
Salvatore gave a presentation at the Merck Academic Partners Symposium (MAPS) on 28th November 2007 and he was awarded the prize for the best presentation. The event is run at Merck Sharp & Dohme's UK Headquarters in Hoddesdon and aims to get together the research they're funding across the UK. Salvatore is a PhD student, supervised by Dr Ian Wilson, and his talk was entitled Rheology and Procecessing of Pharmaceutical Pastes.
Patrick Gordon, an undergraduate student, also won a poster prize at MAPS. Patrick worked for Merck in Hoddesdon over the summer on an internship and was invited to submit a poster summarising his research. He won best poster presentation of the 15 or so posters present. The poster was entitled Platform Formulations for the Controlled Release of Multi-Particulates.
The fourth Annual bioProcessUK Conference took place on 28th and 29th November 2007. Moira Smith won the poster competition and so she will get a ticket and expenses to attend the prestigious BioIndustry Association Gala Dinner on the 31st January at the Natural History Museum, London.
Prizes for first year research students

At the start of their 2nd year of research, research students are asked to give short presentations on their work so far and to prepare a poster. On 24 October 2007, the graduate students gave presentations and then took questions at a poster session.

The prize for best work went to Moira Smith for her work on Drug delivery using ultrasound. She is supervised by Professor Nigel Slater.

The second prize went to Prodromos (Makis) Parasoglou for his work on MRI studies of moisture absorption in wafer. He is supervised by Dr Mike Johns.

The judges were Drs Alex Routh and Patrick Barrie.
FastTrack Award for Mark Williamson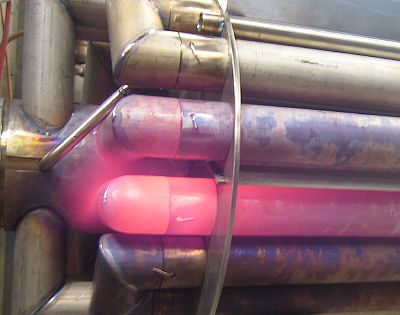 Mark Williamson has been chosen as the winner of the Food Processing Faraday FastTrack Award for 2007 for his project, Impact of Novel Baking Conditions on (Simulated) Food Pieces.
With food companies struggling to maintain their market share by creating ever more interesting products, Mark has identified a need for improvements and innovations in continuous tunnel ovens. His project has included the construction of a prototype radiant burner. The burner was mounted in an enclosure to simulated a baking chamber and measurements taken to validate the results of computational fluid dynamics simulations. This has led to a European PCT patent application.
Mark is currently a postgraduate student here, supervised by Dr Ian Wilson.
The award was presented at the event, Excellence in Food Manufacture 2007 - Advantage from Innovation, held at the The Law Society's Hall, London, on 9 October 2007.
FastTrack supports novel academic research that is of future relevance to the food industry. The Food Processing Knowledge Transfer Network (KTN) administers the scheme on behalf of DEFRA.

Marios Hadjiandreou

Alexander S. Onassis scholarship

Marios Hadjiandreou has won an "Alexander S. Onassis Public Benefit Foundation" scholarship worth £15,000. The scholarship is awarded to doctoral and post-graduate students for academic excellence.

Marios is a second year PhD student working on the mathematical modelling of HIV infection and the optimisation of drug treatment.
SCI Messel Scholarship for Moira Smith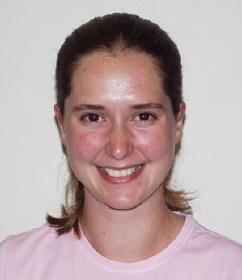 Moira Smith has won an SCI Messel Scholarship. This Scholarship consists of a grant and free membership of the Society of Chemical Industry. It is awarded after an annual competition in June among graduates who have finished their first year of a doctorate in chemistry, chemical engineering and related subjects. Competition for this award is extremely high.
Moira is researching a new targeted drug delivery method, which uses a combined approach of human serum albumin nanoparticles (HSAn) as a drug delivery vehicle, and high-intensity focussed ultrasound (HIFU) as both the means of releasing the drugs from the HSAn and the means of moving the drugs into the target cells due to poration of the cell walls (sonoporation).
HSAn is made from human serum albumin (HSA), which is the major component of human blood plasma, HIFU is capable of non-invasive, accurate and localised targeting of human tissue, up to depths of 15 cm. HIFU has already been proven within clinical trails for uterine fibroids and prostate cancer, as being a safe and effective treatment method.
The proposed method of combining HSAn with ultrasound to target drug delivery should enable a higher therapeutic dose to be administered compared to standard chemotherapy, and minimise the chemotherapy drugs from attacking healthy cells, giving cancer patients a better chance of survival and a higher quality of life.
Moira was also the recipient of a Messel Travel Bursary recently.
Design project, 2007: prize for best presentation
Vignaesh Sivakumar and Pulkit Agrawa" src="https://www.ceb.cam.ac.uk/%3Ca%20href%3D"https://www.ceb.cam.ac.uk/sites/www.ceb.cam.ac.uk/files/media/dp07winners.jpg">https://www.ceb.cam.ac.uk/sites/www.ceb.cam.ac.uk/files/media/dp07winner..." width="370" />
The Design Project is a major part of the coursework for Chemical Engineering students in their third year at Cambridge. In groups of 5 or 6, they spend 5 weeks designing a plant, then hand in a report and give a presentation on their process. The winners for the best presentation on 8 June 2007 were Group B, Miao Wu, Hannah Lane, Timothy Totton, Edward Paul, Vignaesh Sivakumar and Pulkit Agrawal.
The project involves the conceptual and process design of a whole plant and the brief for the Design Project for 2007 was to manufacture butanol at one of British Sugar's existing sugar factories. In a fictional scenario, farmers in the area agreed to join a co-operative venture with British Sugar and to supply the same tonnage of sugar beet for a period of 10 years. The process was based on a breakthrough technology involving an anaerobic fermentation cycle where an organism offered an enhanced ABE (acetone, butanol and ethanol) pathway and the technology employed continuous stripping of the fermentation broth to give a high yield.
Lino Scelsi: Marie Curie Scholarship

The Marie Curie Actions are aimed at the development and transfer of research competencies, the consolidation and widening of researchers' career prospects, and the promotion of excellence in European research.

Lino Scelsi has been awarded a scholarship for the participation to a Marie Curie Summer School in materials science. The summer school on Partial Melt and Amorphous Solids will take place in Estremoz, Portugal, 19-29 August, 2007.

Lino, a 2nd year PhD student from the Polymer Fluids Group, was one of the 30 researchers who was awarded a fully funded place to the event. He will present his work about Flow-induced Crystallisation of Polymers, which is supervised by Prof Malcolm Mackley.


Lino

Marios Hadjiandreou

Travel grant to Chile

Marios Hadjiandreou won a £4,000 travel grant to undertake research at the School of Biochemical Engineering, Pontificia Universidad Catolica de Valparaiso in Chile. The grant was awarded from the Centre of Latin American Studies in Cambridge. The competition takes the form of an application procedure and a shortlisted personal interview. Marios won one of very few grants among fifty candidates. Marios also won a travel grant last year.

Marios is a second year PhD student in the Department of Chemical Engineering, supervised by Dr. V S Vassiliadis. His project is entitled "Optimal control of HIV chemotherapy". External collaborator to this work is Dr. Raul Conejeros of the School of Biochemical Engineering in Valparaiso, Chile.

 

Anson Ma

Anson Ma, Messel bursar

The Messel Trust Fund provides bursaries to young researchers to support their attendance at conferences and recently the fund awarded a travel bursary to postgraduate student Anson Ma to attend the 10th European Scientific Association for Material Forming (ESAFORM) conference. It took place from 18-20 April 2007, in Zaragoza, Spain and Anson presented a keynote presentation entitled The Rheology and Microstructure of Carbon Nanotube suspensions. This presentation reported on the latest experimental results and numerical simulations in relation to the processing of Carbon Nanotube (CNT) suspensions and secondly, introduced the mechanism by which a novel type of flow-induced helical-banding structure can be formed.

On the evening of the first day of the conference, delegates were taken around the city after the scientific sessions and were warmly welcomed by the city chancellor at the City Hall of Zaragoza.

Anson Ma is currently a PhD student from the Polymer Fluids Group supervised by Prof. Malcolm Mackley.

 
The city chancellor of Zaragoza giving a speech at the reception of the 10th ESAFORM conference, held at the City Hall. 
Research project prize winners
Research projects are a major part of the coursework for Chemical Engineering students in their fourth year at Cambridge, leading to the MEng degree. On 26 April 2007, half of the class gave their presentations with the other half presenting on 27 April.
26 April 2007

The first prize winners at the research presentations on 26 April 2007 were James Glover and David Holmes for their work on Microstructure imaging of spray freezing The runners up were Jeremy Gummow and Irina Reder with their poster on Flow of granular material in a rotating cylinder
27 April 2007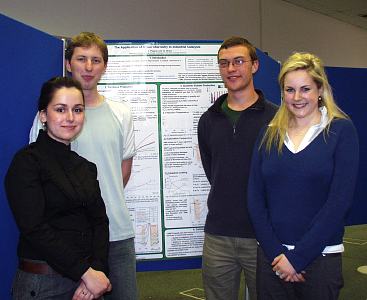 The first prize winners at the research presentations on 27 April 2007 were Matt Ives and Richard Mundy for their work on Efficient combustion of renewable fuels. The runners up were Genti Shiko and Camilla Pepper with their poster on Application of green chemistry to industrial catalysis.
Left to right: Genti, Matt, Richard, Camilla
Danckwerts-Pergamon Prize

The Danckwerts-Pergamon Prize is awarded by the Department each year for the best PhD dissertation on a subject connected with Chemical Engineering. The winner is chosen from those students who gained their PhDs in the preceding calendar year.

Susanna Leong is the winner of the Danckwerts-Pergamon Prize for 2006 for her dissertation Alpha-fetoprotein refolding and bioprocessing. Her supervisor was Professor Anton Middelberg.

Susanna is now an Assistant Professor at Division of Chemical and Biomolecular Engineering, Nanyang Technological University in Singapore.
Inspiring Engineer Shortlisted for a Second National Award

A Cadbury Development Manager with a PhD in Engineering has received a second national nomination for her work to promote science and engineering to young people.

Dr Rachel Cooke, who has a PhD in Chemical Engineering from the University of Cambridge, was named one of the most dedicated Science and Engineering Ambassadors in the country by SETNET, which promotes science, technology engineering and mathematics related careers.

Rachel was short listed from more than 13,500 ambassadors nationwide. The winners were announced at a ceremony at the House of Lords, attended by Lord Sainsbury, Science Minister Malcolm Wicks and Lord Oxburgh.

The recognition follows Rachel's nomination for a Women Into Science and Engineering Award in November 2006.

Speaking of her success, Rachel said: "I am delighted to be recognised for the work I have been doing to support young people interested in science and technology careers. SETNET is a fantastic organisation and I am just pleased to be involved. To meet my fellow ambassadors at the ceremony was excellent, and I hope to continue my involvement in the future."
Prizes for first year research students

At the start of their 2nd year of research, research students are asked to give short presentations on their work so far and to prepare a poster.

On 31 January 2007, ten graduate students gave presentations and then took questions at a poster session. The prize for best work went to Daniel Graf von der Schulenburg (on the left in the photo) and the runner up was Wing Kui Anson Ma.

Daniel's poster was entitled NMR and Lattice Boltzmann Simulation Studies of Bioremediation. He is supervised by Dr Mike Johns and is part of the Catalysis and Magnetic Resonance Group.

Anson's poster was entitled The rheology, microstructure and film processing of Carbon Nanotube (CNT) Suspensions. He is supervised by Professor Mackley and is part of the Polymer Fluids Group.