The Rank Prize Fund 2007 Mini-Symposium on Photonics and Optics in Sustainable Energy
Rosalynne Watt and Clemens Kaminski of the Laser Analytics Group were invited to attend The Rank Prize Fund Mini-Symposium on Photonics and Optics in Sustainable Energy this November, held in the exceptionally beautiful surroundings of Grasmere in Cumbria. The Rank Prize fund is a charitable organisation set up by the late Lord Rank in 1972 to promote research in the sciences that reflected his business interests, which included Optoelectronics. Ten leading scientists in optoelectronics were invited to meet with twenty younger researchers for three days of talks and discussions in an informal atmosphere. Rosalynne presented her research on the development of a wavelength-agile sensor for high-speed combustion analysis, a highly relevant research topic in sustainable energy. Clemens ended the symposium on a keynote, presenting the Laser Analytics Groups recent advances in optics for the study of living cells, giving an insight into the diverse applications of optical diagnostics.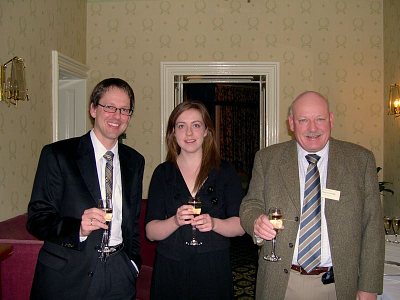 Dr Clemens Kaminski, Rosalynne Watt and Professor Doug Greenhalgh, Chairman of the conference
The aim of the symposium was to encourage younger scientists to explore and develop their skills and make contacts that will help push forward the frontiers of science. The conference was chaired by Professor Wilson Sibbett, a world renowned scientist who made key advances for ultra short laser pulse technology and there was plenty of food and even more drink to generate opportunities to mingle informally with leading scientists! New ideas were formed and new friends made.
For more information see: