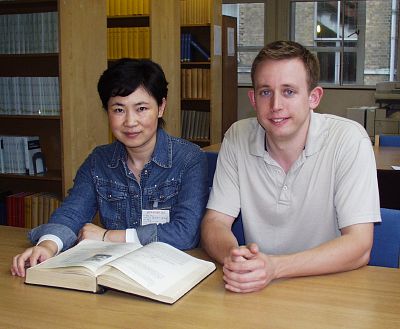 Binjie Hu and Mike Goodson
Dr Binjie Hu will be joining us at the begining of September 2007 to take up the role of Teaching Fellow. The Teaching Fellow contributes to a wide range of undergraduate and postgraduate teaching and assists with the design project, transferable skills and laboratory-based teaching.
Binjie comes from China, Dalian, where she gained her first degree. After obtaining a PhD in chemical engineering from Newcastle University, she has been working at Birmingham University as a research fellow since 1999, mainly on hydrodynamics in multiphase reactors using video techniques. So far, the main applications of her research are in food processing and catalytic hydrogenation reaction. She says, "My new role in Cambridge would fulfil my long lasting teaching interest. Having tasted the well known Cambridge University tea culture and many pleasant views around the city, I have to say, Cambridge is my favourable place to live."
The previous Teaching Fellow was Mike Goodson. He took up the position in January 2004 and has been active in teaching and in encouraging prospective students to choose to study Chemical Engineering and to come to this department. He will be leaving at the end of August to start a new career as a Physics Teacher at the Perse School here in Cambridge. He hopes to to keep up close links with the department.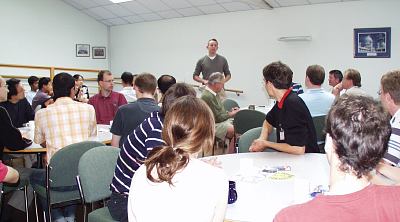 Farewell to Mike Goodson
Head of Department, Professor Lynn Gladden said, "This is an excellent opportunity to thank Mike for the huge amount of effort and enthusiasm he has put into his role as Teaching Fellow. We all wish him well in his future career."
At 11 am on Thursday, 30 August 2007, the department gathered in the Tea Room to say farewell to Mike Goodson. Deputy Head of Department Dr Ian Wilson made a short speech and recalled Mike's 10 years with us as an undergraduate, postgraduate and then Teaching Fellow. He presented him with a framed print.
Further information: