News of students and staff
Our resident DJ

Electronics Technician John Gannon has been involved with a local radio station for about 2 years now and has been presenting a sixties music show for the past 15 months.

The station is called 209 Radio and where it was previously only available on the web, it will now be going "On Air" on the 1st of October 2007 on 105FM.

209radio is a non-profit local Community Radio station, local radio For the people - By the people. It is expected to serve Cambridge and most of the surrounding villages.

John's show is called "The 60's Scene" and will be going out every Tuesday between 8 and 10pm. The show features a wide variety of Classic, Rare and Forgotten 60's music.
London Triathlon

James Third has won the amateur part of the London triathlon. The race took place on Sunday 5 August 2007 and consisted of a swim of 1500m, a bike ride of 38km and a run of 9.8km. James completed the course in a total of 1 hour 53 minutes. His prize is a free trip to Australia at the end of October.

James Third is currently studying for a PhD and working on DEM modelling of rotary kilns, supervised by Dr Scott.
David and Diane

David Carter (Research Facilitator) and Diane Williamson married on 27th July, 2007, at Westworth United Church, Winnipeg, Manitoba Canada.
The reception was held in the nearby Assiniboine Park Pavilion.
Michaela McNeill, BA (Open)

Michaela McNeill, our receptionist, graduated on 2 June 2007. She completed an Open University degree, and so is now entitled to put BA (Open) after her name. The ceremony took place at Ely Cathedral on a lovely summer's day.

Her husband, David, accompanied her to the event and she was also supported by her proud parents. After the ceremony she and her family went out for a celebratory meal and they opened the champagne and cut this wonderful cake, made by Michaela's Mum.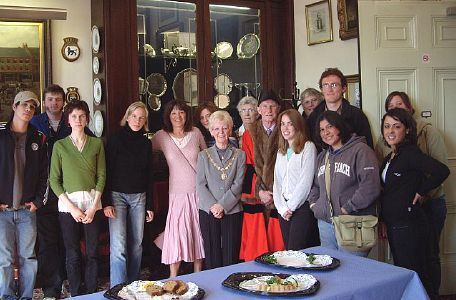 The volunteers pay a mayoral visit in full costume 
Robin Chrystie
Robin Chrystie, a PhD student supervised by Dr. Kaminski, co-ordinated a Concordia international voluntary work project for two weeks in Morpeth, Northumberland during June 2007. The group of volunteers from as far away as Mexico, US, Finland, Germany, Italy, Spain and Turkey, took part in environmental conservation work in the local area, such as constructing steps and riverside revetments.
Robin is currently studying for a PhD on Thermoacoustic instabilities within gas-turbine engines and he is a member of the Laser Analytics Group.
Concordia is a registered charity and helps to foster intercultural understanding and relationships, based on work experience.
Mark Sankey running the 2007 London Marathon. 
Mark Sankey
The London Marathon (26.2 miles) took place on Sunday 22 April 2007.
Postgraduate student Mark Sankey completed the course in 3 hours 12 minutes and came in at position number 1623. Before the race, he said, I'm running in aid of Tearfund, a relief and development charity. You can read more about it and its current campaigns at www.tearfund.org.  Thank you for your support!
Mark has been studying for a PhD on MRI studies of fluid flow in multiphase systems and he is a member of the Catalysis and Magnetic Resonance Group.
Rowan Hooper was also taking part in this year's marathon and completed the course in 2 hours 43 minutes, coming in 188th. Rowan gained his PhD from this department in 2006, with a thesis entitled, Development of techniques for the study of protein systems.
Congratulations to Rowan, Mark and the other 35667 people who reached the finishing line!