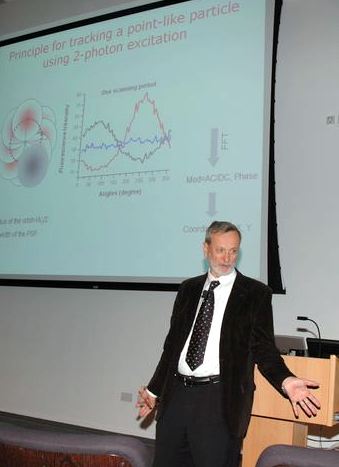 The 1st Theodor Förster International Lecture series at the University of Cambridge was inaugurated at the Li Ka Shing Centre for Cancer Research, on the 12th of November 2007 by Professor Enrico Gratton, of the University of California, Irvine with his talk: "Tracking protein-coated particles in 3D".
Professor Gratton heads one of the best known microscopy centres in the world, the Laboratory of Fluorescence Dynamics, and is one of the pioneers of modern fluorescence microscopy with several key inventions and over 400 publications to his name. Around 150 people attended his lecture from a number of departments in Cambridge and beyond, and most stayed on for wine and snacks to engage in stimulated discussions. The Lecture series is organised by the Laser Analytics group with Dr. C. Kaminski and Dr. A. Esposito acting as chair and co-chair, respectively. The aim of the series is to generate a strong microscopy community in Cambridge, linking researchers in the life sciences, who need advanced imaging techniques, with those who develop them, i.e. physicists and engineers. The theme runs close to the Physics of Living Matter initiative in Cambridge and 8 recognised world leaders in microscopy research have agreed to speak on a range of topics. The next lecture will be given by Dr. Quentin Hanley on fluorescence lifetime imaging on the 12th of December.
Full details on all events are available from http://laser.cheng.cam.ac.uk/foerster.
The lecture series has been made possible through generous donations by leading industries serving the microscopy field and state-of-the-art technology is showcased in sessions following the main presentation, to offer visitors "hands on experience" on latest technology. In addition, a series of journal clubs connected to the lecture topics are being organised to prime interest and focus debate.
Further information: