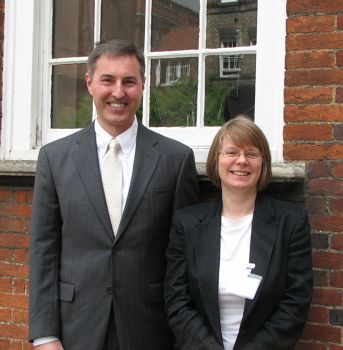 2008 marks the 60th Anniversary of the founding of the Department of Chemical Engineering at the University of Cambridge and we marked this event with a day of lectures and a dinner for all our former students and staff.
Speakers
We were delighted to welcome Dr William Banholzer, Corporate Vice President and Chief Technical Officer of Dow Chemicals. He gave a fascinating presentation on the Future challenges for Chemical Engineers from an industrial perspective, which was very relevant considering the escalating oil prices at the moment.
Other presentations included talks by past Heads of Department, Prof John Davidson and Prof John Bridgwater, on the foundation and development of the department from 1948 onwards. There was also an overview of teaching in the department, past and present, and several talks by current academics about their work. See our Programme and Speakers page for detailed information.
Merger and new building
Presentations also showed how biotechnology has been present in Chemical Engineering since the beginning of the department in 1948 and how the merger with the Institute of Biotechnology builds on work already in progress. We look forward to building and moving into a new Department building in the West Cambridge Site over the next few years and some delegates went on a coach trip to visit the Magnetic Resonance Research Centre and the potential site.
The recent article in the chemical engineer that called the merger a Marriage of Love led to a number of comments taking the analogy further. Professor Ian leslie, VC Research, gave the final presentation of the day entitled Chemical Engineering and Biotechnology at the University of Cambridge. He wasn't sure whether his role in the merger was that of father of the bride or best man.
Dinner at Trinity
The day was brought to a very pleasant end with a dinner for all our alumni at Trinity College. This was an opportunity for current staff and students to meet the alumni and for them to catch up with old friends. The list of alumni present covered the years 1944 to 2001. The first on the list was Sir John Cullen, former chairman of the Health and Safety Commission. His date of matriculation, that is the date he started his studies at Cambridge, was 1944. He was Prof John Davidson's first research student.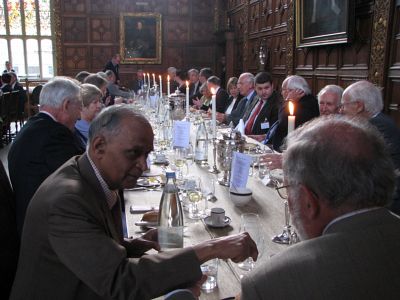 The photograph includes Prof MM Sharma from Mumbai University Institute of Chemical Technology, Sir David Harrison, Prof and Mrs Davidson, Prof Ian Leslie, Prof Lynn Gladden and Dr Alex Routh.
Further information
Contact us if you would like to be invited to future events