Ting Yueh Liu

Hot article

Ting Yueh Liu has recently published a research article in the journal Physical Chemistry and Chemical Physics, which has been distinguished as a 'hot article'. The article presents a new way of ascertaining whether or not a reacting mixture will explode. Gas and vapour explosions pose a significant risk in the process, chemical and other industries. The existing, classical theories of explosion only apply to certain limiting cases, i.e. a perfectly mixed system or a system where heat is transported by thermal conduction only. However, in many important industrial problems heat generated by chemical reaction can result in natural convection, whose motion enhances heat removal. Here, we study the effects of such natural convection on explosion.

For further information, please see the abstract, Effects of natural convection on thermal explosion in a closed vessel

Ting Yueh is a first year PhD student with the Fluids and Environment Group, working on thermal explosions.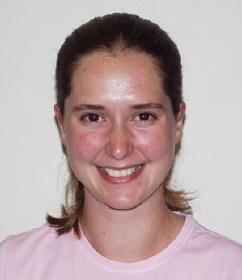 Moira
Moira Smith wins award for best student paper at ASA conference
Moira Smith has won the award for the best student paper at the ASA (Acoustical Society of America) conference in Paris, 30 June - 4 July 2008. The competition was open to all the 500+ student papers that had been submitted.
Moira's paper was entitled The effect of high intensity focussed ultrasound (HIFU) on pH responsive PEGylated micelles and was written with Dr Mark Eccleston and Prof Nigel Slater.
The award was announced at the ASA/EAA Physical Acoustics and Biomedical Ultrasound/Bioresponse to Vibration Technical Committee Meeting on July 1, 2008 in Paris.
The paper describes the effect of HIFU on pH responsive PEGylated micelles. Micelles can be used as drug carrier vehicles reducing un-wanted drug toxicity. HIFU is able to release drugs from the circulating micelles, as well as improving intracellular uptake of both micelle- encapsulated and free drugs non-invasively. Large molecules generally enter cells by endocytosis. Endosomes gradually become acidic and fuse with enzyme containing lysosomes degrading the endosomal contents and preventing them from reaching their intracellular target. Using pHresponsive polymers enables endosomes to be distrupted, releasing their contents into the cytoplasm before degradation occurs. Addition of polyethyleneglycol, referred to as PEGylation, prolongs circulatory half-life and reduces degradation within the bloodstream. HIFU did enable release of encapsulated molecules from the modified micelles, and the micelles were taken up by H69 human carcinoma cells in vitro. Further work will investigate optimization of the micelles to maximize encapsulated drug release. The combined approach of using both pH responsive PEGylated micelles and HIFU to deliver drugs would provide more accurate targeting of therapies allowing higher therapeutic doses to be administered, reduce unwanted side effects and give patients a higher quality of life.
XVth International Congress on Rheology

Dr Tim Lord has been awarded an International Travel Grant by the Royal Academy of Engineering. The grant will enable him to attend the The XVth International Congress on Rheology which will take place in Monterey, California from August 3 to August 8, 2008.

Dr Lord is a post doctoral researcher with the Polymer Fluids Group, working on Polymer crystallization.
Young Researcher's Award in Particle Technology

Roberta Pacciani has won the first prize of The Young Researcher's Award at the Particle Technology Forum held at Heriot-Watt University (Edinburgh) on the 25th-26thJune 2008.

The Particle Technology Forum was devised in the 1990s as an informal UK national conference bringing together researchers, especially young researchers, active in all aspects of particle technology in the UK. The forum was established to support developments in the subject and to promote networking between different research groups, students and industry. The primary supporters of the forum are the IChemE Particle Technology Subject Group. Each year, the Particle Technology Subject Group of IChemE organises a competition for postgraduate students in particle technology. Six finalists were selected from a strong field of twenty-one entrants representing seven research institutions. The finalists each delivered a fifteen minute presentation at the Particle Technology Forum on 25th June. The prize was £500.

Roberta is a member of the Combustion and Granular Materials Group

Vincent Ho is a postgraduate student working on BioScience Engineering

Vincent Ho selected to attend WKD

Vincent Ho has been selected to attend the World Knowledge Dialogue (WKD) to be held at Crans-Montana, Switzerland from 10-13 September 2008.

He was selected on the basis of an essay competition by A*STAR (Agency for Science, Technology and Research) which is his sponsoring organisation from Singapore.

The World Knowledge Dialogue (WKD) aims to bridge the gap between natural and human/social sciences and principal speakers this year include the Nobel Laureates Kofi Annan, Christiane Nüsslein-Vollhard and John Sulston. The dialogue has two main interdisciplinary themes to guide this year's debate:

Collective network knowledge and human individual intelligence: Convergence and divergences
Collaborative behaviour, Altruism & Conflict: From animal behaviour to economics and prevention of violence

During the symposium, successful candidates are required to participate in seminar sessions, workshops and extracurricular discussions, give inputs to each of these elements from the student's perspectives and engage in cross disciplinary dialogues.
Pilkington Prize for Dr Barrie
Dr Patrick Barrie has been awarded a Pilkington Prize. Dr Barrie is a University Lecturer here at the Department of Chemical Engineering. The Pilkington Prizes are awarded each year to academic or academic-related staff who have distinguished themselves in teaching and this year 11 teachers were honoured at a reception on 11 June 2008. The Vice-Chancellor Professor Alison Richard awarded the prizes at the Møller Centre, followed by supper at Churchill College.
The full citation compiled by Dr Barrie's Head of Department, Prof Lynn Gladden, reads, "Patrick Barrie is an outstanding lecturer. His students find his courses excellent and inspiring in terms of both content and delivery. As Admissions Officer for the Department, Patrick has been involved in advertising the undergraduate course in Chemical Engineering to first year Natural Scientists and Engineers, as well as to prospective applicants and their parents and teachers. He has been hugely successful in this arena, more than doubling the Department's intake in four years.
Patrick's colleagues also appreciate his tireless and diligent work in teaching administration and dealing with quality issues. His interactions with the teaching team and staff-student consultative committee have been especially valued.
On behalf of the University and the School of Technology, I take great pleasure in awarding Dr Patrick Barrie a Pilkington Prize for Teaching."
Design project, 2008: prize for best presentation
The Design Project is a major part of the coursework for Chemical Engineering students in their third year at Cambridge. In groups of 5 or 6, they spend 5 weeks designing a plant, then hand in a report and give a presentation on their process.
The project involves the conceptual and process design of a whole plant and the brief for 2008 was to design a diesel hydrotreater.
In order to limit the amount of sulphur compounds released to the atmosphere the EU are proposing to reduce the specification of sulphur in diesel to 10 ppmw by 1st January 2011. The normal means of reducing the sulphur content is to hydrotreat it. This involves passing a mixture of gas oil and a hydrogen rich gas stream over a suitable catalyst bed at elevated temperature and pressure. The hydrogen reacts with the sulphur compounds to produce hydrogen sulphide. The hydrogen sulphide is then recovered and converted to elemental sulphur which is a valuable by-product.
This year, there was a tie between two groups for the prize for best presentation.

Joint winners: Group A
Left to right: Patrick Davies, Jonathan Pemberthy, Haowei Wang, Catherine White and Katie Cranleigh-Swash

and Group H
Left to right: Rafiq Thayer, Daniel Hill, Mohd. Fadzrul Ahmad, Thomas Luce and Joy Nativivat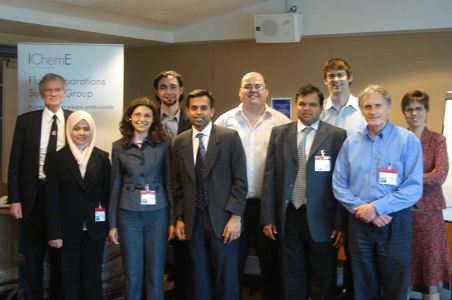 IChemE Subject Group prize for Mayyada El-Sayed
Mayyada El-Sayed has won a prize at the IChemE annual symposium What's New in Fluid Separations? The award was for her presentation entitled Cation-exchange adsorption of major whey proteins. The symposium was organized by the Fluid Separations Subject Group of the IChemE and was held at GlaxoSmithKline, Stevenage on the 30th May 2008. The prize was £200.
Mayyada is a PhD student here at the Department of Chemical Engineering, working on Biotechnology, supervised by Prof Howard Chase. She is shown in the photograph, front row, second from the left.
The photograph also shows the chairman, Dr Basu Saha from the University of Loughborough, the judges, the other winners from the Universities of Manchester and Loughborough, and the organisers from GlaxoSmithKline. The judges were Professor Richard Darton, from the University of Oxford, Mr Stephen Coombs, Moulson-Chemplant Ltd, Dr Darren Oatley, GlaxoSmithKline, Stevenage, and Mr Christopher Pink , GlaxoSmithKline, Stevenage,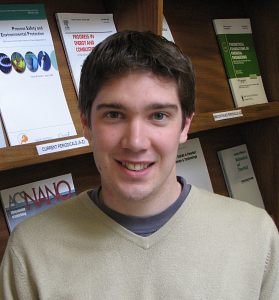 Tim Murray awarded Salters' prize for 2008
Tim Murray has been awarded one of this year's Graduate prizes from The Salters' Institute of Industrial Chemistry.
Each year, the Salters' Institute invites every UK department of Chemistry or Chemical Engineering to nominate one final year undergraduate. The selectors are looking for candidates who will ultimately be able to occupy leading positions in the UK Chemical Industry.
Tim Murray is currently in Part IIB of his Chemical Engineering MEng course and he says, "Having been lucky enough to be nominated by the department for the prize, I had to answer a couple of sides of questions on topics such as why I enjoy chemical engineering and my plans for the future before being invited for interview at the Salters' Institute in London. The two interviews were short and sweet lasting little more than half an hour in total, during which I was probed further about my career aspirations, what I consider to be the major concerns facing the UK chemical industry today, and the usual questions about my summer internships and how I manage to find time for work, tennis and having fun. After my final set of exams are done and Oxford have (hopefully!) been beaten in the Varsity Tennis Match I will be starting work for a young but rapidly expanding company called Newton Industrial Consultants in September. My job will be a technical role looking at ways of improving the efficiency of manufacturing processes across a wide range of industries."
Dr Alessandro Esposito - EPSRC fellowship

Dr Alessandro Esposito has been awarded a Life Science Interface Postdoctoral Research Fellowship by the EPSRC. The LSI Programme offers this fellowship to develop an independent career working at the interface with the life sciences. He will start a research project on the development of multidimensional, hyperspectral imaging microscopy to provide more flexible and sensitive technology to track molecular interactions in living cells. These methods and technologies will be used to investigate the aggregation and the multiple protein-protein interactions of alpha-synuclein, a protein implicated in Parkinson's Disease. The project involves research collaboration and visits with Prof. Thomas Jovin (Max Planck Institute foe Biophysical Chemistry, Gottingen) and Prof. Hans Gerritsen (University of Utrecht).

 
Drs Toni Laurila and Nuno Reis - Marie Curie Intra-European Fellowships for Career Development

Drs Toni Laurila and Nuno Reis have won Intra-European Fellowships for Career Development, financed by the 'Marie Curie Actions' People programme within the Seventh Research Framework Programme (FP7).

These fellowships aims at supporting experienced researchers at various stages of their career, helping them in acquiring new research skills (multi or interdisciplinary) or to undertake inter-sectoral experiences in any scientific or technological area. The only criteria on proposal selections is the contribution to European excellence and European competitiveness.

Dr Toni Laurila is part of the Laser Analytics Group and he is working on a project to develop ultrasensitive optical diagnostics for anaesthetic detection from patient's exhaled breath during surgery.

Dr Nuno Reis is part of the Polymer Fluids Group and his project will be concentrated on developing disposable, plastic microcapillaries for the separation and purification of biopharmaceuticals.

The total financial contribution of the EU is around 175,000 Euros for each project and will support our experimental research activities and living costs during the next 2 years.


Nuno Reis

Toni Laurila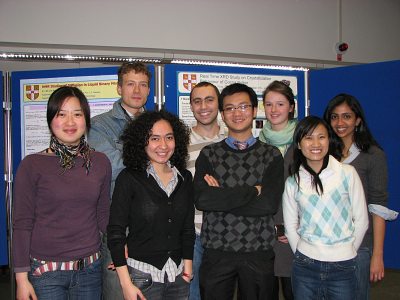 Left to right: Li Li, Richard Holroyd, Nadiah Zainul-Abdin,
Szymon Leszczynski, Sean Seah, Polly Outram, Zhiyan Lin
and Meenal Pore
Research project prize winners
Research projects are a major part of the coursework for Chemical Engineering students in their fourth year at Cambridge, leading to the MEng degree. On Friday, 29 February 2008, half of the class gave their presentations with the other half presenting on Tuesday, 4 March 2008.
On Friday, the winners were Richard Holroyd and Li Li and the runners up were Szymon Leszczynski and Polly Outram. Richard and Li's presentation was entitled Plasmid DNA Purification by an Affinity Aqueous Two Phase System and Szymon and Polly's title was Modelling turbulent reactor flow with Computational Fluid Dynamics.
On Tuesday, the winners were Meenal Pore and Sean Seah, with Zhiyan Lin and Nadiah Zainul-Abdin in second place. Meenal and Sean's presentation title was Real-time XRD Study on Crystallization Behaviour of Cocoa Butter and Zhiyan and Nadiah's project title was NMR Studies of Diffusion in Binary Liquid Mixtures.
Biotechnology and Bioengineering

The current issue (March 2008) of Biotechnology and Bioengineering features work by members of this department on its cover. Daniel Graf von der Schulenberg, Daniel Holland, Lynn Gladden and Mike Johns from the Magnetic Resonance Research Centre (MRRC) have just had their paper selected by the editor to be spotlighted.

The paper is D.A. Graf von der Schulenburg, D.J. Holland, M. Paterson-Beedle, L.E. Macaskie, L.F. Gladden and M.L. Johns (2008), Spatially Resolved Quantification of Metal Ion Concentration in a Biofilm-mediated Ion Exchanger, Biotech. and Bioeng., 99(4), 821-829. It describes a Magnetic Resonance Imaging (MRI) protocol to quantitatively image contaminant concentrations during bioremediation processes. The method achieves this in a non-invasive, spatially and temporally resolved manner and as such facilitates understanding and optimization of bioreactors. In their study is presented a bioremediation process to remove Co2+ ions from aqueous solution. The MRI technique is described in detail and its ability to determine the evolution in both axial and radial Co2+ concentration profiles is demonstrated, from which total column capacity can be determined. The final biofilm-based ion-exchange column design allows operation in a 'plug flow' regime, hence making use of its full capacity before breakthrough. Conventional techniques for such process optimization are either restricted to the analysis of the outlet, which provides no information on spatial heterogeneity of the system, or are invasive and need a large number of sample points to obtain 1-D concentration information.
Siemens Process Analytics Prize for Young Scientists

The 2008 Siemens Process Analytics Prize for Young Scientists has been awarded to Rosalynne Watt by Siemens and the German working group "Prozessanalytik". The prize is awarded to a young scientist for an outstanding publication in the field of Process Analytics. The prize committee consisted of five referees from four European countries. The publication for which Rosalynne Watt was awarded the prize is titled "Generation of supercontinuum radiation in conventional single-mode fibre and its application to broadband absorption spectroscopy", and was published in the January issue of Applied Physics B, 2008.

Rosalynne Watt is a PhD student in the Laser Analytics Group, supervised by Dr. Johan Hult. She works on the use of broadband supercontinuum laser sources for ultra fast multiple species concentration measurements in reactive flows. The technology she has developed also holds large promises for applications in both atmospheric and biomedical sensing. The award will be presented at the EUROPACT 2008 conference in Frankfurt am Main in April. The prize money is 1000 Euro.
Prizes for first year research students

At the start of their 2nd year of research, research students are asked to give short presentations on their work so far and to prepare a poster. On 30 January 2008, the graduate students gave presentations and then took questions at a poster session.

The prize for best work went to Simon Schlachter for his work on A novel supercontinuum-based lifetime imaging microscope. He is supervised by Dr Clemens Kaminski.

The second prize was shared by Fernando Abegão and Tamaryn Brown. Fernando's subject is MRI studies of catalytic reactors and he is supervised by Prof Lynn Gladden and Dr Mick Mantle. Tamaryn works on Chemical looping combustion of solid fuels, supervised by Dr Dennis.


Left to right: Simon, Tamaryn and Fernando.
Conference Presentation Prizes - Daniel Graf von der Schulenburg

At the recent IWA Biofilm Technologies Conference, held in Singapore on 8-10 January 2008, Daniel Graf von der Schulenburg, a PhD student at the MRRC, won best presentation prizes for both Biofilm Structure and Biofilm Modeling. The work, supervised by Dr Mike Johns, features collaborations with both the University of Birmingham and Delft University of Technology. Daniel presented on the following topics:

"Bioremediation Process Optimisation via Magnetic Resonance Imaging"
Authors: D.A. Graf von der Schulenburg, M. Paterson-Beedle, L.E. Macaskie, L.F. Gladden, M.L. Johns
"Three-dimensional model of biofilm growth in porous media"
Authors: D.A. Graf von der Schulenburg, C. Picioreanu, M.C.M. van Loosdrecht, L.F. Gladden, M.L. Johns