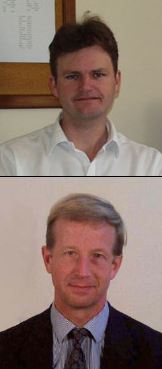 Dr John Dennis and Dr Mike Johns have been promoted to Personal Readerships in the 2008 Senior Academic Promotions procedure. This has just been announced in the Reporter of 28 May 2008 and will take effect from 1 October 2008.
Dr Dennis has been a Senior Lecturer here at the Department of Chemical Engineering since 2004 and his area of research is concerned principally with the generation of sustainable energy. He has published widely on combustion and combustion-related topics and is a member of the Combustion and Granular Materials Group. He is a Chartered Engineer and Fellow of the Institution of Chemical Engineers.
Dr Johns completed his PhD here at Cambridge in 1999 and then joined us as a University Lecturer. He was awarded an ExxonMobil Engineering Teaching Fellowship in 2003 and became a Senior Lecturer in 2005. His work is in the areas of structure-processing relationships of materials and contaminant hydrology. He works mainly at the Magnetic Resonance Research Centre.
We congratulate them on this achievement.
More information:
The Reporter, 28 May 2008, Report of the General Board on Senior Academic Promotions