News of students and staff
Bruce Russell's wedding

Dr Bruce Russell (2nd from left) married Joanna in Newcastle, Australia, and the wedding was attended by Drs Petr Steiner, Paul Stevenson and Andrea Fitzgerald.

Bruce was a research student in the department until 2003, working on Signal processing for on line control of paste extrusion, supervised by Dr Wilson. Petr was a post doctoral worker at the MRRC with Prof Gladden and Andrea was also a research student in the department, working on the Design of food process equipment.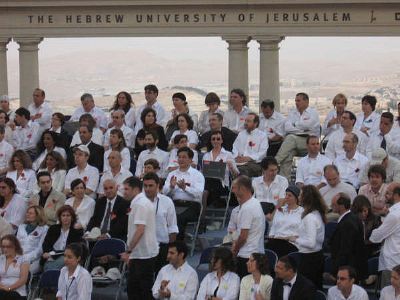 Dr Inna Livshitz (in the centre of the photograph) with some
of the other students receiving their PhDs from the Hebrew University.
1 June, 2008.
For more information:
The Hebrew University of Jerusalem
The PhD graduation ceremony
Inna Livshitz, PhD
Dr Inna Livshitz, our Library Assistant, has been awarded a PhD from the Hebrew University of Jerusalem.
She was working in the Department of Russian and Slavonic Studies, Faculty of Humanities, and the subject of her thesis is Thematic Structures of Russian Oral Discourse: Dialogues and Monologues of Russian Speakers in Israel. The work covers an investigation of oral conversations among Russian immigrants in Israel.
Somewhere around one million Russian immigrants live in Israel now and there is no doubt that they have a big impact on modern Israeli economics, politics and culture. On the other hand, the Russian talk in Israel is influenced a lot by an Israeli reality, culture and mentality which are completely different from a soviet or post-soviet culture of the former USSR. As a result, a new cultural phenomenon has been raised - Russian Israeli talk produced by Russian immigrants. This talk is distinguished from a "normal" Russian speech and can be considered as a specific kind of Russian discourse. From this perspective Inna has investigated distinctive characteristics of Russian talk in Israel and found that a number of important cultural and linguistic changes have occurred to Russian discourse in Israel.
The Hebrew University of Jerusalem is Israel's first University and known as a best multidisciplinary institution of higher learning and research (especially in Humanities). The University is an internationally respected scientific centre with formal and informal ties to the worldwide scientific and academic community. However, emphasis is put on advanced postgraduate study and research in all subjects.

Sarah Creber at the Varsity Match.
Photo courtesy of Ice Pix UK

Ice hockey varsity match success

The annual ice hockey varsity match between Cambridge and Oxford is one of the longest-standing ice hockey rivalries in the world. This year the men's and women's games were played in Oxford on March 1st and 2nd, 2008.

For the women's game, Cambridge won 8-3. It was Cambridge's first win in 12 years! The team included post graduate student Sarah Creber and she scored 3 goals in the game. Sarah is a member of the Magnetic Resonance and Catalysis Group and is working on Reverse Osmosis membranes, supervised by Dr Johns. She started playing hockey back in Canada and has been playing for 9 years. It is her first season with the Blues.

Richard Trueman (another first-year PhD student in this department) played for the men's Blues team, but unfortunately the Cambridge men lost their match. Richard is working on Stratified drying of latex films, supervised by Dr Routh.
Continuing Education

On Wednesday, 30th January, 2008, Vanessa Blake was presented with a Certificate of Continuing Education at Madingley Hall by Pro Vice Chancellor Dr Kate Pretty.

The Certificate of Continuing Education recognises that Vanessa has accumulated 60 credits by attending courses at Madingley Hall. These have been in a range of subjects related to history, archaeology and geology, and the courses were all in her own time.

Photo: By Julian's photography Linton
Our resident DJ

Electronics Technician John Gannon has been involved with a local radio station for about 2 years now and has been presenting a sixties music show for the past 15 months.

The station is called 209 Radio and where it was previously only available on the web, it will now be going "On Air" on the 1st of October 2007 on 105FM.

209radio is a non-profit local Community Radio station, local radio For the people - By the people. It is expected to serve Cambridge and most of the surrounding villages.

John's show is called "The 60's Scene" and will be going out every Tuesday between 8 and 10pm. The show features a wide variety of Classic, Rare and Forgotten 60's music.