An interactive public lecture 
I think it was Dawn French who said "There are two types of people - those who like chocolate and those who lie". Everyone likes chocolate and the bendy chocolate lecture on Saturday 13 March 1999 filled the Babbage lecture theatre to capacity - that's around 300 people. It was presented by Dr Malcolm Mackley and Robert Marshall from the University of Cambridge, Department of Chemical Engineering.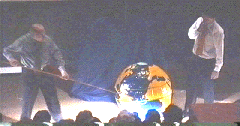 The lecture was intended for everyone aged 12 or over, though there were some smaller children there too, and they enjoyed the messier experiments.
Malcolm and Robert began with a description of what chocolate is and where it comes from, which was the cue for a large globe to be rolled down the aisle.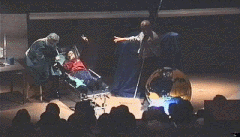 Then, after a short discussion of the physics and chemistry of chocolate, they got on to the experiments. Volunteers who helped with experiments were given Easter eggs and almost every child in the audience wanted to be a volunteer. The first "victim" demonstrated the melting point of chocolate by sucking a probe coated in chocolate. A large screen showed the temperature in her mouth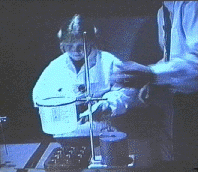 The messiest experiment showed the traditional way of making chocolate into shapes. That is, you melt it, pour it into moulds and wait for it to cool down and set. At the end of the lecture, this mess still hadn't cooled enough to be turned out of the mould.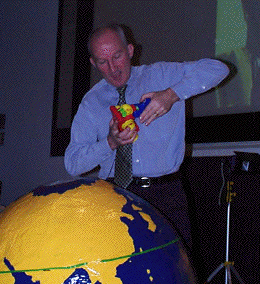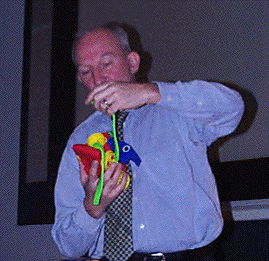 The new way of making chocolate into interesting shapes is to extrude it. This toy shows the idea of extruding - in this case squirting plasticene through a small hole.
More volunteers then helped to work the machine that makes real bendy chocolate
and this is bendy chocolate....