At the recent IChemE education subject group meeting "Is it process or product engineering?", two lecturers from this department, Dr Geoff Moggridge and Prof Ed Cussler, gave a paper entitled, "An Introduction to Chemical Product Design". The meeting was held at Birmingham University on 15 April 1999.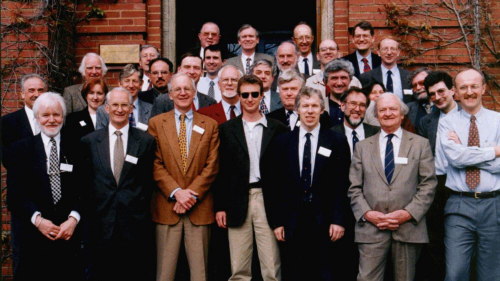 The picture of the delegates shows the speakers in the front row (left to right) Roger Davey, Mike Edwards, Ed Cussler, Geoff Moggridge, chairman Martin Pitt, Don Freshwater amd Jonathan Seville. Two other Cambridge lecturers also attended the meeting, Dr Ian Wilson and Mr Bob Skelton. (The picture was taken by Amy Walker and first published in The Chemical Engineer on 29 April 1999. We thank them for permission to reproduce it here.)
Prof Cussler is from the Department of Chemical Engineering and Materials Science, Institute of Technology, University of Minnesota, Minneapolis. He has been working with us in Cambridge for a year as the Zeneca Senior Visiting Fellow, and during that year he and Geoff have been developing a course on Product Design.
Their paper outlined changes in the chemical industry over the past 30 years or so which lead to the increasing importance of Product Design. It then described the course they gave here last year on Product Design, with emphasis on the structure this gives to the teaching of Chemical Product Design. Dr Moggridge said, "We believe it is essential to have a coherent intellectual framework for this subject if it is to become part of the core Chemical Engineering curriculum."