Submitted by Administrator on Thu, 09/05/2019 - 10:44
---
Chemical Engineering alumna and writer Fiona Erskine publishes "The Chemical Detective", a crime thriller with a chemical engineering protagonist.
Chemical Engineering alumna and writer Fiona Erskine has recently published "The Chemical Detective", a thriller with a chemical engineering protagonist, now exploding onto the crime scene.
The story line is set in Teesside, Slovenia, Belarus, Russia and Ukraine with explosives expert Dr Jaqueline Silver uncovering a secret chemical weapons factory operating in the Chernobyl exclusion zone.
The book author alumna Fiona Erskine (nee Macleod - Selwyn College) read Chemical Engineering in Cambridge from 1979-1983. After graduation she started with ICI and has since worked for several different chemical companies, from small family owned to giant multinationals, and has a special interest in process safety. Research for the book included a visit to the site of the worst peacetime nuclear accident.
In the early hours of the morning of 26 April 1986 the core of Reactor No 4 at the Chernobyl Nuclear Power Plant exploded during an unsafe safety test. Over thirty years later, in 2017, a giant silver arch - the New Safe Confinement - slid over the still smouldering reactor and its crumbling sarcophagus. The largest ever mobile structure, built at a cost of over 1.5 billion euros, is a remarkable feat of human engineering.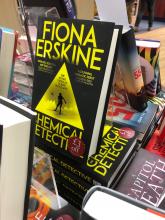 Every bit as remarkable is the growth of new fungi in the darkness of the still active core, using energy from radioactive decay in the absence of light. The melanin-containing fungi—Cladosporium sphaerospermum, Wangiella dermatitidis, and Cryptococcus neoformans—use gamma radiation for growth: radiosynthesis. Nature finds a way.
Fiona commented on the book launch: "It's not just police detectives who solve mysteries- chemical engineers do it all the time. I'm thrilled to be able to share some of the stories I've collected - and invented - over my career - the facts often stranger than fiction".
"The Chemical Detective" is published by the Point Blank imprint of Oneworld and is now available from all good bookshops including Heffers. 
Watch tongue-in-cheek video of book release on Twitter.