Submitted by Administrator on Wed, 30/01/2019 - 11:53
---
CEB sponsoring BBMS Conference to help Build Bridges in Medical Sciences.
CEB is sponsoring Building Bridges in Medical Sciences (BBMS), a well-established biomedical health conference that has been running since 2010. The 11th edition will take place on Friday 8  March 2019 at Jesus College, University of Cambridge.
Martin Potts, Conference Organising Committee Co-Chair, commented; "BBMS aims to promote and discuss interdisciplinary medical science, encompassing basic research, public health, policy and industry. In the past, the conference has hosted some of the biggest names in the biomedical and health sciences. BBMS19 is no exception and will feature talks from eminent speakers working in diverse fields, including the Nobel Laureate John Gurdon and Professor Quentin Pankhurst, alongside pitches from exciting Cambridge-based start-ups. The conference represents a fantastic opportunity for students and early-career researchers to discuss innovative interdisciplinary research and form valuable connections with colleagues working in different research areas."
BBMS conference is a free event and open to staff and students. It aims to promote interaction between students and researchers from the diverse disciplines involved in medical research. CEB's activity in the area of biomedical engineering research and its applications is in line with the aims of the BBMS conference.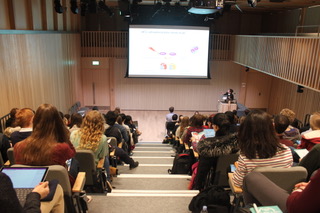 Elena Gonzalez, Marketing Assistant at CEB, added; "Given CEB's strong focus on interdisciplinary research, the association with BBMS Conference is good fit and the Department has seen this an opportunity to support the event so that our students are involved with the local medical student community, can network with top researchers in their fields and are exposed to the latest medical advances. Overall, this is a mutually beneficial partnership with the Department of Medicine and we are delighted to financially support this student-run initiative."
More info and registration here.