Submitted by Anonymous on Mon, 15/12/2014 - 11:31
---
Natural geochemical reactions can delay or prevent the spreading of carbon dioxide in subsurface aquifers, according to new research done in the Department of Chemical Engineering and Biotechnology. The study, published in the Nature Communications on 11 December 2014, shows that distinct regimes of CO2 transport may occur in deep saline rock formations, depending on the geochemical reactions between dissolved CO2 and the porous rock formation. The work is co-authored by Silvana Cardoso, Reader in Fluid Mechanics and the Environment, and Jeanne Andres, who completed her PhD study in the Department in 2013.
Pools of carbon dioxide are found in natural geological accumulations and in engineered storage in saline aquifers. It has been thought that once this CO2 dissolves in the formation water, making it denser, convection streams will transport it efficiently to depth, but this may not be so. The study assesses theoretically and experimentally the impact of natural chemical reactions between the dissolved CO2 and the rock formation on the convection streams in the subsurface. The researchers show that, while in carbonate rocks the streaming of dissolved carbon dioxide persists, the chemical interactions in silicate-rich rocks may curb this transport drastically and even inhibit it altogether. These results challenge our view of carbon sequestration and dissolution rates in the subsurface, suggesting that pooled carbon dioxide may remain in the shallower regions of the formation for hundreds to thousands of years. The deeper regions of the reservoir can remain virtually carbon free.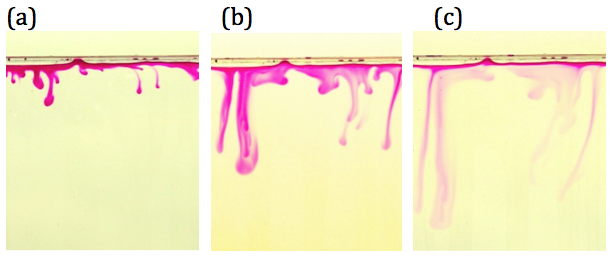 "The behaviour of carbon dioxide depends strongly on the chemical composition of the rock formation. For example, our results suggest that for a rock matrix rich in calcium feldspar, the convection streams may be completely shut-off in a short period of only two months after onset of motion. After this, the carbon dioxide will be transported to depth by much slower diffusional processes.
This finding has important practical implications for storage of carbon dioxide in saline aquifers, enabling informed screening of the most effective sites," said Silvana Cardoso, Reader in Fluid Mechanics and the Environment.
The researchers use a combination of simple laboratory experiments and mathematical analysis to establish the basic interaction between fluid flow and chemical kinetics in a deep porous medium. The work demonstrates how some geochemical reactions may assist the spreading of dissolved carbon dioxide, while other reactions may curtail it.
Nature Communications is a multidisciplinary journal of the Nature Publishing Group that publishes high-quality research from all areas of the natural sciences. The paper is available to view online.