Submitted by Anonymous on Fri, 27/07/2018 - 10:31
---
On the occasion of its 350 year's anniversary, Merck has initiated a flagship conference called Curious2018 – Future Insight, held in Darmstadt from 16-18th of July.
The conference brought some of the greatest scientists and most accomplished entrepreneurs together on an invitation-only basis. There were talks by Nobel prize winners such as Jean Marie Lehn and Fraser Stoddart, leading scientists from the fields of molecular biology, chemical synthesis, physics and space research including Craig Venter (a pioneer of human genetics studies), Emmanuelle Charpentier (CRISPR) and Francis Arnold (directed evolution), just to name some.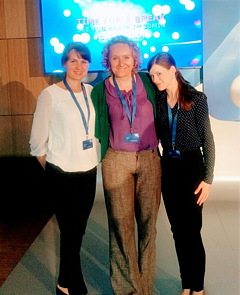 CEB was represented by four scientists, as shown in the photographs, which is proof of the interesting and highly relevant science going on within the Department. Dr Ljiljana Fruk was chosen to give a short talk and she spoke about chemistry in the age of bio-nano hybrids. Tonya Kerbs and Theresa Maier were selected for poster presentations.
Left to right: Postdoc Tonya Kerbs (from the BioNano Engineering group headed by Dr Ljiljana Fruk), Dr Ljiljana Fruk and PhD student Theresa Maier (jointly from the BioScience Engineering Group supervised by Prof Nigel Slater, the BioNano Engineering Group and the Department of Paediatrics).
Nan Li (Stevenson group), Dr Ljiljana Fruk and Tonya Kerbs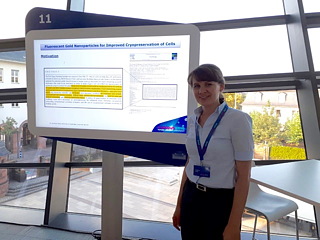 Tonya Kerbs with her poster on Fluorescent gold nanparticles for improved cryopreservation of cells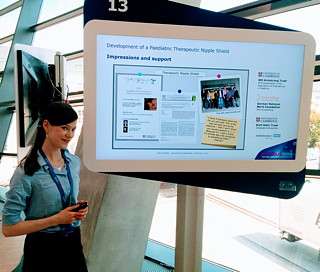 Theresa Maier with her poster on the development of a paediatric therapeutic nipple shield
It was a unique conference in a way it joined different fields and was focus on future technologies and forging collaborations. There were lots of Merck scientists attending, and we can expect some future collaborations with CEB to take place in the years to come.