Submitted by Anonymous on Thu, 04/02/2016 - 11:32
---
A gathering was held at the department on 3 February 2016 to say farewell to Prof Howard Chase, who retired on 31 December 2015, after 34 years with the department.
Head of Department, Prof John Dennis, started proceedings with a review of Howard's career with us.
Then Prof John Davidson continued with some earlier recollections. Prof Davidson recruited Howard Chase and later Howard recruited John Dennis, so between them there is almost a complete history of the department.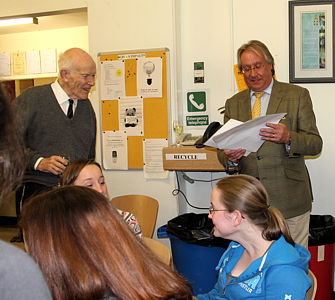 John Dennis presented Howard with a card signed by many of his friends and colleagues in the department,  some vouchers for a local wine merchant and a trophy made by the workshop which Howard later described as "A unique and enduring memento which will be of interest to my family and friends."
Howard won't be in the department as much as he used to be, but he will be in from time to time to see how we're all getting on.
We wish him every happiness in his retirement.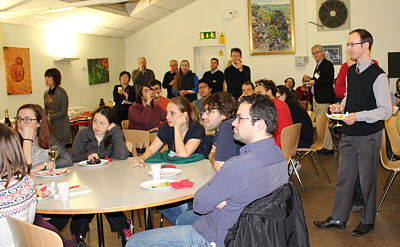 Professor Chase joined the academic staff of the Department of Chemical Engineering as an Assistant Lecturer in 1984, became a Lecturer in 1986 and Reader in Biochemical Engineering in 1996. He was the Head of the Department (HoD) of Chemical Engineering from 1998-2006 and has held the position of Professor of Biochemical Engineering here since 1 October 2000. He was also Head of The School of Technology from 2010-2013.