Submitted by Anonymous on Thu, 20/12/2018 - 16:23
---
We wish farewell to Vanessa Blake, who leaves today, 31 December 2018. She is retiring.
Vanessa joined the department as a Computer Officer in March 1996. The World Wide Web was then in its infancy and the website was a very small part of her role. Over the years, in addition to IT support for staff and students, she has developed the website from a few brochure pages to the full site it is now, covering information for all interested in the department.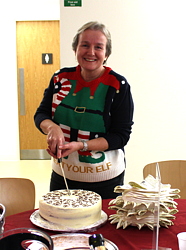 A small gathering was held for her on Friday 14th December. Prof Lisa Hall and Dr Iain Morrison spoke about her career and gave her a card and gifts. The card was signed by many in the department. There was then prosecco and cake. It was also Save the Children Christmas Jumper Day.
Vanessa said, "Thank you very much to everyone who came to my leaving do, thank you for the kind things you wrote on the card and thank you for the generous presents. I have been a member of the U3AC (University of the Third Age in Cambridge) for a few years and the voucher for next year's membership will allow me to continue to enjoy classes such as my tap dance class on a Tuesday. You have also given me a sizeable Amazon voucher, so I'm thinking of all the good things I can buy with that. I intend to get at least one book on Polar exploration so that I can brush up on that before starting as a volunteer at the Scott Polar Museum."