Submitted by Vanessa S. Blake on Tue, 20/10/2015 - 15:18
---
BHF awards funding to Cambridge researchers to create new, man-made heart valves
The British Heart Foundation (BHF) has announced funding of over £750,000 to a Cambridge research team, led by Dr Geoff Moggridge, who are looking to develop a new type of man-made heart valve which could be used to treat people whose heart valves are permanently damaged.
Every year around 300,000 man-made valves are used to replace patients' faulty heart valves. Man-made, or mechanical, valves are more durable than biological valves made from animal tissues which are the other option for valve replacement. However, they also require a person to remain on medication to prevent their blood from clotting around the valve.
Dr Moggridge and his team hope to make and test man-made valves that are both durable and are also specifically designed to prevent unwanted blood clotting. This would mean that once a patient's faulty heart valve had been replaced they would no longer need to take medication.
Dr Moggridge said: "Surgeons have been successfully replacing faulty heart valves with man-made valves for many years, giving patients longer, more active lives.  We hope that with this new valve we can offer people needing a valve replacement a better quality of life and a chance to live even longer."
This work was featured on Cambridge TV at 9pm on Tuesday, 20 October 2015.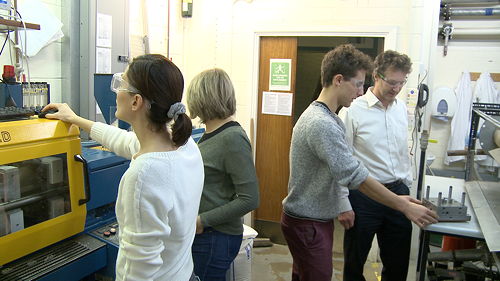 Dr Moggridge is working with co-Investigator Joanna Stasiak and Marta Serrani.  It is a joint project with Bristol University (Professor Raimondo Ascione and Professor Saadeh Suleiman) and the Freeman Hospital, Newcastle upon Tyne (Mr Sukumaran Nair and Professor Azfar Zaman).
The BHF currently funds over £39 million worth of cardiovascular research at the University of Cambridge. As part of their new research strategy, the BHF has committed to spending half a billion pounds on research in the next five years. This money will be used to fund the best researchers working across all areas of cardiovascular disease research. However, this commitment to fund life saving research will only be possible with the continued generosity of the UK public.
Find out more about the BHF's strategy for beating cardiovascular disease at bhf.org.uk/researchstrategy
See the man made heart valve in action: