Submitted by Anonymous on Thu, 09/01/2014 - 11:52
---
Holograms are paving the way to low-cost in vitro diagnostics
Ali Yetisen and Dr. Fernando da Cruz Vasconcellos in Professor Christopher R. Lowe's laboratory have developed responsive holograms that act as sensors for medical diagnostic applications - increasing the possibility of portable devices for patient care in both clinical and point-of-care settings.
The multidisciplinary team has developed three-dimensional (3D) holograms in chemically-responsive media using nanosecond pulsed laser ablation.
The holographic sensors produced visual colorimetric response in the presence of physiological conditions. In other words, these holograms displayed visible-light Bragg diffraction and monochromatic colour corresponding to the conditions of interest.
Experimental results showed that the hologram was highly sensitive and reported large and reversible colors in the entire visible spectrum. This was the first reported device that utilised the entire visible spectrum for sensing applications.
Fully-quantitative readouts were obtained through spectrophotometry, and semi-quantitative results were achieved through visual readouts.
In their study, published in Advanced Optical Materials journal, they have shown the feasibility of this new sensing mechanism.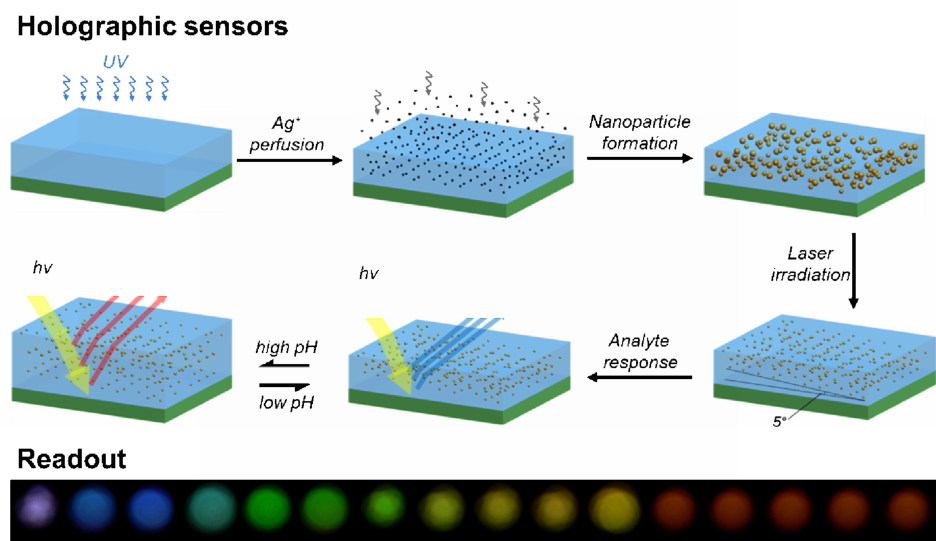 These holographic sensors can be responsive to a wide range of medically-relevant chemicals and agents. For example, these holograms can test for pH, glucose, lactate, fructose, electrolytes, enzymes, hormones, alcohol, bacteria, viruses, and other infectious agents.
The holographic sensor represents a simple and label-free analytical platform for the quantification of clinical analytes, while showing potential scalability.
The team estimates that a single could be built for about 10 pence at the present time.
The scientists now are developing a prototype test suitable for clinical settings and home testing.
Clinical tests in Cambridge's Addenbrookes Hospital for diabetic patients are currently underway.
This work was a multidisciplinary effort bringing together the researchers from our department, the Department of Engineering (Yunuen Montelongo, Dr. Haider Butt and Professor Tim Wilkinson), Cavendish Laboratory (Dr. Silvia Vignolini, Professor Jeremy Baumberg and Professor Ullrich Steiner) and clinicians from the US.
It is anticipated that the holographic sensing platform will lead to many novel applications from printable devices to low-cost colorimetric biosensors.
Ali Yetisen
Dr. Fernando da Cruz Vasconcellos
Professor Christopher R. Lowe