Submitted by Vanessa S. Blake on Fri, 11/03/2016 - 10:27
---
On Thursday, 10th March 2016, the Department of Chemical Engineering and Biotechnology hosted a symposium and dinner as a tribute to Emeritus Professor John F. Davidson.
Colleagues and friends gathered to mark Prof Davidson's 90th birthday and to celebrate a career of remarkable achievements in Chemical Engineering. The event was also a gesture of thanks for his immense contribution over the last 63 years in the Department - not only to the history of the Department and its continuing development, but also to the discipline itself.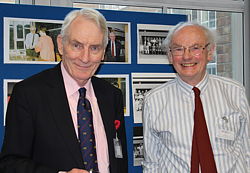 Several speakers shared reminiscences on John's career.
Firstly, Sir David Harrison spoke on A Trip down Memory Lane: Memories of a distinguished Nature. Fifty three years ago in this department, young researchers John Davidson and David Harrison were carrying out pioneering works on fluidization, which were summarised in their book Fluidised Particles, published in 1963.
Professor M.M. Sharma was next to speak. Professor Sharma was a research student here in the Department of Chemical Engineering from 1961-64. He was supervised by Prof. P V Danckwerts and studied the kinetics of gas absorption. He has remained a good friend of the Department and has regularly kept in touch. His talk was titled JFD in Cambridge: Bubbles ; JFD in Mumbai, My Forays into Cambridge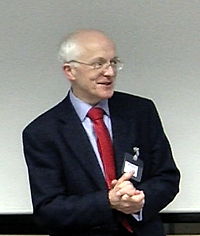 Dr David Brown, IChemE Chief Executive, described Prof Davidson's Contribution to Chemical Engineering discipline and Industry. He said that Prof Davidson had been an outstanding President of the IChemE.
Then Claudia Flavell-While presented Prof Davidson with the Bird, Stewart and Lightfoot Medal for Exceptional Research in Transport Phenomena.
Alumnus and Laureate Professor Graeme Jameson (Chemical Engineering and Director of Centre for Multiphase Processes, University of Newcastle, New South Wales, Australia) nominated John Davidson for the first ever IChemE Bird, Stewart & Lightfoot Medal for his contribution into increasing our understanding of heat, momentum and mass transfer phenomena taking place inside multiphase systems, especially involving granular flows, fluidised beds and bubble columns.
Professor Jameson completed his PhD here in the 1960s, on the Behaviour of a bubble in a vertically oscillating liquid, under Professor Davidson's supervision. He went on to develop the Jameson Cell in the 1980s.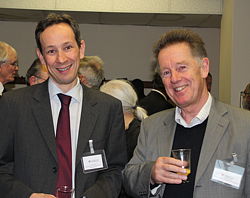 Professor Chris Lowe covered The JFD - Biotechnology Link. Professor  Davidson became Head of the Department of Chemical Engineering in 1975 and was a member of the Commitee for Biotechnology in the early 1980's. He interviewed Dr Lowe for the position of Director of Biotechnology. At first, Dr Lowe and his colleagues were in a semi derelict hut on the Downing Site, known as the Biotechnology Centre. It became the Institute of Biotechnology in 1988 and merged with the Department of Chemical Engineering in 2008.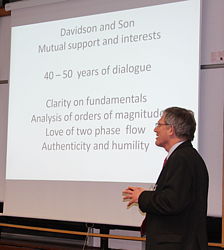 Then Prof Davidson's son Peter Davidson gave a talk entitled Davidson and Son: Mutual Support and Interests.
Finally, Professor John Davidson replied to the previous speakers and then the day was rounded off with a dinner at Trinity College.
If you couldn't make it to the symposium, please watch the videos.