Submitted by Anonymous on Fri, 17/06/2016 - 14:55
---
CEB PhD students Theresa Maier (BioScience Engineering Group) and Cassi Henderson (Analytical Biotechnology Group), as well as their teammate Graham Mills (PhD Cancer Research), have recently won the national McKinsey Venture Academy 2016 competition with the startup JustMilk Ltd. The McKinsey Venture Academy is a social enterprise competition for university students based in the UK and Ireland and focused on the potential social impact of the enterprise. The prize includes seed funding of £10,000 and mentorship from McKinsey to help transform their idea into a viable social enterprise.
JustMilk Limited was co-founded by Theresa Maier and another PhD student in the department Rebekah Scheuerle in late 2015, based on the technology developed in the Bioscience Engineering Group of the Department of Chemical Engineering and Biotechnology. Currently, Theresa operates as CEO and Cassi and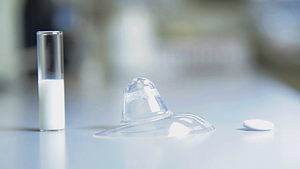 Graham as business development. The JustMilk project, consisting of JustMilk Limited and a US non-profit, is developing an infant drug and nutrient delivery device with the potential to improve the safety, efficacy, and access to life-saving medications, vitamins, and nutrients to breastfeeding infants globally.
Earlier this year, JustMilk Ltd was also nominated as a Business Weekly 2016 Start-up of the Year Finalist and came in at number 75 in the biannually index "Disrupt 100". Each Disrupt 100 venture was sourced from over one million global start-ups and corporate ventures, and was scored against a specific criteria measuring the potential it has to affect an existing market or geography, introduce new customers into an existing market and/or creating a new market with significant customer demand. In addition, JustMilk Ltd and the JustMilk non-profit also recently won the royal start-up competition Pitch@Palace, set up by the Duke of York as well as the Duke of York Entrepreneur of the Week.