Submitted by Anonymous on Mon, 29/02/2016 - 13:33
---
Theresa Maier and Rebekah Scheuerle
JustMilk won 1st Place in PitchatPalace 5.0, a competition hosted by His Royal Highness the Duke of York, providing start-ups an opportunity to pitch their ventures to key stakeholders that can propel their business development.
Hosted in St. James Palace on 7 March 2016, the event featured pitches by the 14 ventures who had won the PitchatPalace Bootcamp.  Each venture pitched to the audience, composed of over 400 leaders from organisations including grant funding agencies, venture capital firms, pharmaceutical companies and NGOs.  
Winning the competition provides the opportunity for JustMilk with an invaluable network of supporters to assist in scaling and implementing their device, a novel tool for administering life-saving medicines to infants during breastfeeding.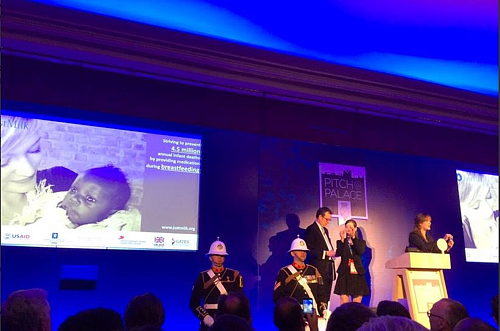 "It was such an honour to be hosted by His Royal Highness the Duke of York and his team in St. James' Palace to speak about our venture. It gave us the opportunity to give a voice to the millions of infants at risk of death from preventable disease without hygienic paediatric medicines available. The incredible empathy of the audience and the means by which members are already assisting in propeling our venture forward is incredible. This has been an inspiring unparalleled opportunity to direct attention to the magnitude of need for innovation for paediatric medicines and their delivery systems." - Rebekah Scheuerle
"We are so grateful for the wave of positive support we are already receiving in response to the Pitch@Palace event on March 7th.  Numerous remarkable opportunities arose from stakeholders in pharmaceutical companies, grant funding agencies and ministries of health. These connections will be instrumental in further developing our clinical investigation, and accelerating our business. It is such a privilege to be supported through His Royal Highness in our endeavour of commercialising our drug and nutrient delivery device to help safe infant lives globally." - Theresa Maier
JustMilk is grateful to be part of an inspiring alumni network of Pitch@Palace, and looks forward to remain in close contact with the Duke's office.