Submitted by Anonymous on Fri, 16/09/2016 - 09:54
---
News from one of our graduates, Clementine Chambon
In 2013, Clementine Chambon left this department to start a PhD in cost-effective production of biofuels from lignocellulose at Imperial College London. A year later, she undertook a 5-week climate entrepreneurial course that served as an introduction to the field of social entrepreneurship. It is there that she met her co-founder, Amit Saraogi, an Indian social entrepreneur, and they embarked upon developing a scalable model to address energy access and climate change in India.
India is home to over one-third of the world's population that lacks access to electricity. Over 450 million people receive less than four hours of power per day, severely limiting their livelihoods and forcing them to resort to using polluting and expensive kerosene and diesel fuels for lighting and commercial power. Oorja is a for-profit social enterprise founded in 2014 that aims to provide access to clean, reliable and affordable power to off-grid and underelectrified communities in rural India. Clementine is responsible for Oorja's technological development while Amit leverages 15 years of consulting, entrepreneurial and development experience to lead Oorja's business strategy.
To do this, Amit and Clementine plan to deploy decentralized energy systems powered by renewable resources. Electricity is generated in a miniature power station through gasification of crop and woody waste and by solar PV systems. It is then distributed via an AC mini-grid to neighboring villages, with each plant serving roughly 1000 people. The clean electricity will meet not only domestic needs such as lighting and mobile phone charging, but more critically, it will be used for productive uses such as running machinery in micro-enterprises and community needs such as powering schools, health centres and street lights.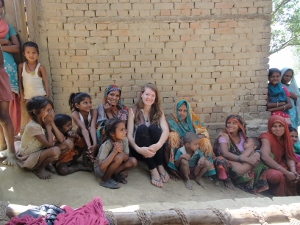 Oorja's innovation is to use a highly scalable business model whereby the power stations are franchised to local entrepreneurs and women's self-help groups. This facilitates market entry and having a community-run model encourages customer buy-in and hence project longevity. The company plans to invest in smart grids so that payment collections and monitoring can be done remotely. To remain competitive in such a price-sensitive market, Oorja uses very low-cost biomass feedstock and locally trained staff to ensure electricity tariffs remain affordable. In addition, low-income households are cross-subsidised by commercial users so that everyone can benefit from clean energy access.
In 2015, Clementine and Amit received a prestigious Echoing Green Climate Fellowship to help provide seed funding for their enterprise. More recently, Clementine was named Social Innovator of the Year by MIT Technology Review in France and one of 30 social entrepreneurs under 30 in Europe by Forbes. 
"By championing decentralized energy systems, we aim to democratise clean energy access and unlock lasting social, economic and environmental change in rural Indian communities. In the long term, we also hope to increase renewables in India's energy mix and to have a significant impact on mitigating climate change," said Clementine.
The two co-founders and their team are currently preparing to deploy their first power plant in January 2017 in rural Uttar Pradesh, northern India. Beyond this pilot, they expect to build hundreds of plants in the next five years to serve 200,000 people and save over 200,000 tons of CO2 by replacing fossil fuels with clean energy.
For more information, check out Oorja's website at www.oorjasolutions.org, social media platforms (@oorjasolutions) and sign up to their newsletter!
There are no upcoming talks currently scheduled in this series.