Submitted by Anonymous on Wed, 16/04/2014 - 14:38
---
Dr. Fernando da Cruz Vasconcellos and Ali Yetisen in Professor Christopher R. Lowe's laboratory have developed surface holograms that can be printed anywhere to store information –  making personalised security, sensing and optical devices a reality.
The multidisciplinary team has developed 2D and 3D holograms made of printed ink via an ultra-fast nanosecond pulsed laser-induced patterning.
Experimental results showed that the printable holograms can be patterned on a variety of surfaces, including transparent and opaque materials. This study represents important advances in holography, and it is the first reported method that allows the printing of personalised holograms at low-cost using ultrafast laser patterning.
The printable holograms displayed visible-light Bragg diffraction and monochromatic colour corresponding to angle of view. These printable holograms diffract light in the entire visible spectrum.
Surface holograms can be read and viewed under normal ambient light conditions or through the use of smartphones and other mobile devices.
In their study, published in ACS Photonics journal, they described this new personalised hologram printing technology.

Reprinted with permission from ACS Photonics, The American Chemical Society 2014.
These surface holograms can be printed on a variety of material surfaces to produce holographic QR codes, logos, barcodes, personalised signatures and 3D images. For example, holographic QR codes can be used to identify counterfeit medicine, pharmaceuticals, biologics and other high-value products. Interpol estimates that over one million people die per year from counterfeit medicines and pharmaceutical businesses including GSK, Pfizer, Roche and Johnson & Johnson are currently losing over $ 75B annually due to counterfeiting, which is increasing at a rate of 15-17% annually.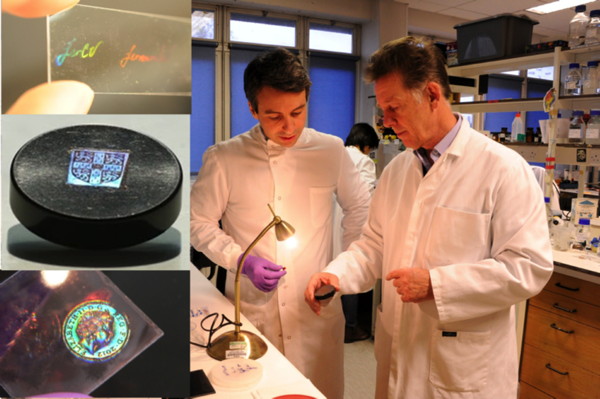 The printable holograms represent a simple technology for the personalised printed of custom holograms and signatures in a scalable and facile way.
The team estimates that a single hologram could be printed for $ 0.07 each.
The scientists now are developing a prototype test suitable for a security feature on the packages of pharmaceuticals and biologics, including blister packs and vials. Security tests and integration with smartphones and other mobile devices algorithms are also currently underway.
This work was a multidisciplinary effort bringing together the researchers from the Department of Chemical Engineering and Biotechnology and the Department of Engineering – Centre for Advanced Photonics and Engineering (CAPE) (Yunuen Montelongo, Dr. Haider Butt and Professor Tim Wilkinson).
The team is currently seeking to commercialise this printable hologram technology.
It is envisioned that this technology can be integrated in desktop printers for easy-to-fabricate holograms for applications in data storage to optical displays and devices.